The Sims 3: Generations
With "The Sims 3: Generations" expansion pack only one new career or profession was added. This new job that Sims can now have is at The Sims 3 Daycare which is actually at your Sim's home.
It isn't quite as exciting as the new professions that were added with "The Sims 3: Ambitions" expansion pack, but it is quite interesting to be able to watch after kids as a job in the game. There aren't many levels for the profession, but that doesn't make it an easy one to master either. Read on with this guide to help you make the most out of this new profession in the game.
New Profession: The Sims 3 Daycare
If your Sim loves kids and family, this would be a really great profession for them to join. It is rather easy to get started. Simply go on your Sim's computer and look for "Jobs and Professions" and choose "Profession" and then scroll until you see Daycare listed as an option. If your Sim doesn't have a computer, it is also sometimes listed in the newspaper.
This is a profession that takes up a very long portion of the day (and week) for the Sim and they aren't paid very well. It really is rewarding though for Sims that truly love raising children. The caregiver will need to interact with all of the kids they are taking care of quite often throughout the day.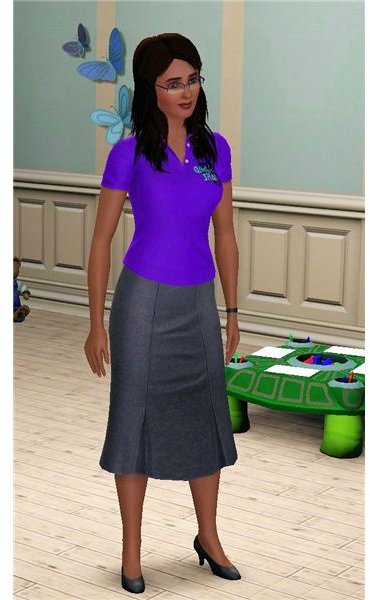 Quite often parents of the children you are babysitting will call and say they will be late picking them up. This gives you some extra cash, but can be annoying if you planned on having much of a social life. Sometimes parents will also call on the weekend having you watch their children then too.
All of The Sims 3 kids will need to be in positive moods (aim for good or best of all, great) when the parents come to pick them up. This requires a lot of extra attention on all of the kids. You can see how you did with the daily report pop-up that is shown at the end of the work day.
If your Sim is a slacker, don't bother with this job because they are likely to be scolded by the parents of the children they were supposed to be watching and will threaten to call social services. If the parents do call social services, it will end with your Sim's Daycare license being revoked and/or losing clients. If your Sim happens to lose their license, you can get it back by having them attend the "Penalty Class" that is at City Hall.
Setup the House to be Kid Friendly!
The Sims 3 Daycare at the home of your Sim will require extra kid objects that will need to be purchased before your Sim starts this profession.
It is best to transform the lower level or a large living room of your Sim's home into the daycare area. If your Sim has a small home, consider transforming the garage into a large room that the kids could all be in during the day. This makes it easier to watch them and everything is close by which will save your Sim quite a lot of time.
Items to Add to the Daycare Area:
You will have up to four toddlers, so 3-4 potty chairs should be added

Wastebasket to empty the potty chairs into (saves time walking to the kitchen or to the garbage can outside)
3-4 Highchairs (or you could feed them a bottle on the floor which saves time too)
1-2 Peg Toyboxes
Skip the Xylophone (kids are annoyed when other kids play it)
Toybox or two (kids like playing inside it too)
Genesis Building Blocks
Desk and comfortable chair for children to do homework at
TV with video games for children to play
Costume Chest for children to play pretend with
Hopscotch court
Seesaw
Sandbox area
Waterslide
Anything that would keep toddlers and children entertained is a huge positive to have at the Daycare, so invest in it to keep the kids happy! Decorate the area in kid-friendly décor and colors too. Also be sure to have a bathroom on the lower level area near where the younger kids are. That way, the children will be able to use the bathroom quickly if they need to go too.
From Amateur Babysitter to Daycare Specialist
There are only 5 levels to the daycare profession. That doesn't mean it is easy to fully advance though. To do this, you will need to fill up the "Job Experience" bar for each level which isn't always easy because the more levels you advance, the more kids you have to take care of and the more you have to do for them increases too.
To quickly see what the kids you are watching need, move the arrow over the kid. It will let you know if they are hungry, smelly, need social interactions, and what mood they are in. Check on all of the kids often to make sure they are all in positive moods.
Level 1: Amateur Babysitter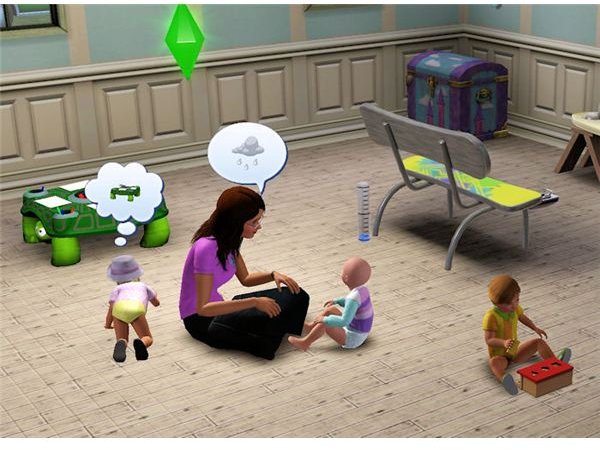 Workdays: Monday – Thursday from 9AM – 7PM
Stipend: $100 per week
Kids to Watch: 2 toddlers
Level 2: Cool Care Giver
Workdays: Monday – Thursday from 9AM – 7PM
Stipend: $200 per week
Kids to Watch: 3 toddlers
Level 3: Daycare Dynamo
Workdays: Monday – Thursday from 9AM – 7PM
Stipend: $300 per week
Kids to Watch: 4 toddlers
Special: Parents will call on weekends to have you watch their kids too. They may give you gifts for doing a great job watching their kid and teaching them new skills such as talking, walking, and potty training.
Level 4: Good Guardian
Workdays: Monday – Thursday from 9AM – 7PM
Stipend: $400 per week
Kids to Watch: 4 toddlers, 1 child
Special: Be sure the child does their homework and is in a great mood after school too!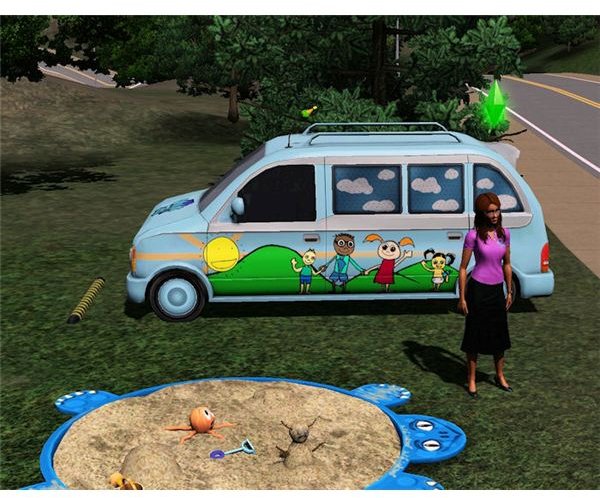 Level 5: Daycare Specialist
Workdays: Monday – Thursday from 9AM – 7PM
Stipend: $500 per week
Kids to Watch: 4 toddlers, 2 children
Reward: Daycare Van
Special: Now you'll also have to deal with a problem child. Be sure to talk to them about their problems and punish them when they pull any of The Sims 3 pranks in your home!
Note: Each new level of The Sims 3 daycare profession your Sim will receive a new outfit to wear.
References
All screenshots and references from The Sims 3.
Screenshots provided by the writer.