Play or WooHoo in The Sims 3 Tree Houses – Not Just for Kids!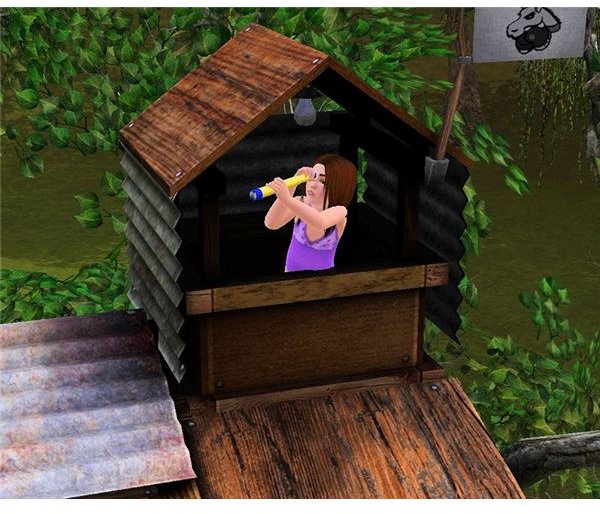 The Sims 3: Generations
Many new objects and content was added with "The Sims 3: Generations" expansion pack. Much of the new content was given for kids and teenagers to use. This was a good thing though because with many of the expansion packs prior to this one, those age groups were quite neglected with new content.
Kids can now play in The Sims 3 tree houses, slide on water slides, attend after school activities, play with an imaginary friend, and much more. Teenagers can now join clubs at school, go to prom, pull off pranks, get punished and attend boarding school. Adults were also given a nice assortment of new content including going on dates, having a bachelor party, running a daycare from their home and more.
The Sims 3 Tree Houses
Tree houses are a new place for children to escape to play and pretend that they are on some type of adventure at. Each type of tree house gives different options for the child to interact with. Teenagers and adult Sims aren't allowed inside to play. Kids can invite other kids up to play with them or they can just have fun up there by themselves.
Kids that are playing inside the tree house can set who is allowed inside with them. They can make it so only girls are allowed up, only boys are allowed up, or everyone is allowed inside.
Teens can go inside to hang out in them or go to sleep inside of them. Adults can get naughty in them or sleep in them.
Types of Tree Houses
There are three types of tree houses that are available for Sims to purchase for their lot. These each have special interactions and sound effects when kids play in them.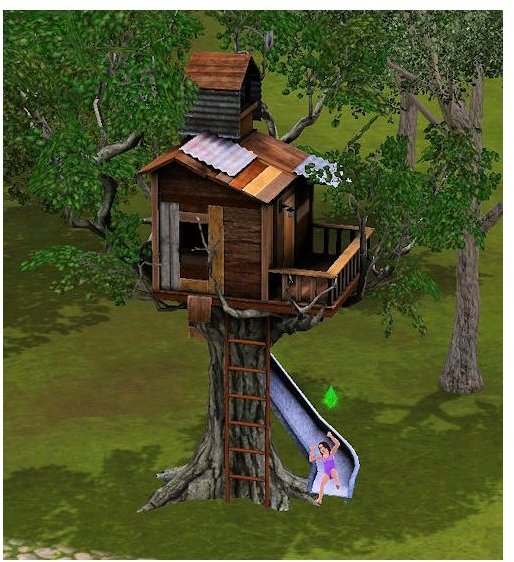 Kid's Clubhouse
Adventure Interaction – Fight Pirate Invaders
Special Exit – when exiting the kid slides down the slide
This is a really cute "club house" that looks like the father made it himself. It is also the cheapest option available, so Sims on a budget can afford it for their kids.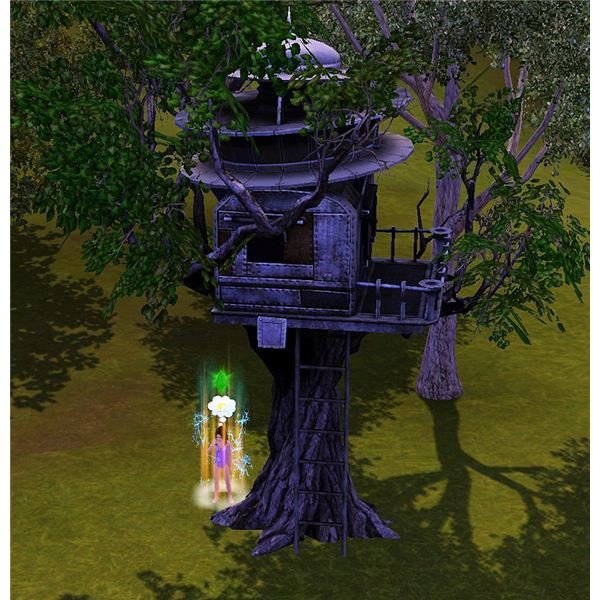 Sci-Fi Hideaway
Adventure Interaction – Explore New Worlds
Special Exit – when exiting the kid beams down
This is quite a unique looking tree house that is perfect for any Sci-Fi enthusiasts or town that has some alien colored Sims in it. Plus, how cool is it that kids can just beam down when they leave the club house? Very cool!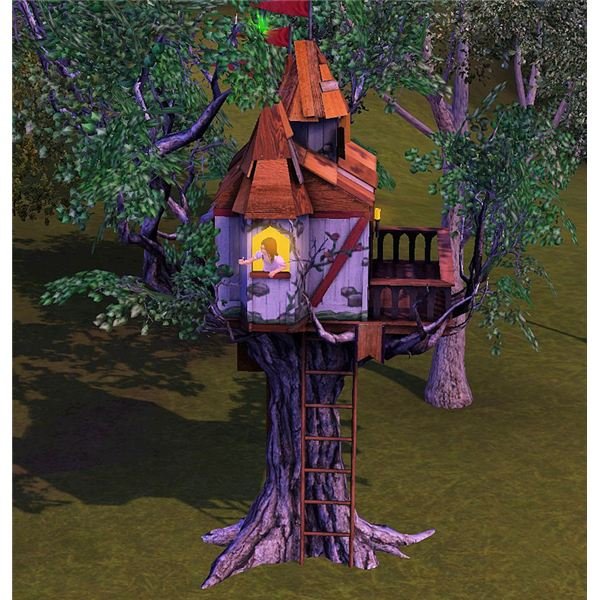 The Princess & The Pauper Castle
Adventure Interaction – Hold Great Feast
Special Exit – no "special" exit with this one
This is the nicest and most expensive option available. It is the one that is really for the spoiled kids in the town or perhaps just those that enjoy the nicer things in life (with the help of the money cheat).
Tree House Prank
The Sims 3 pranks are an amusing way for kids and teenagers to have some mischievous fun with other Sims. Kids can do everything from make toilets clog to have sinks spray on someone and other fun booby traps. Teenagers have the riskier pranks that they can do including lighting poop on fire (and running away) to the classic doorbell ditch and many more.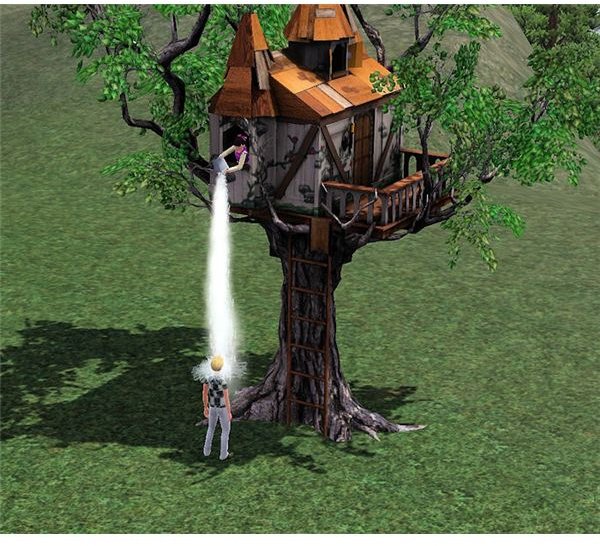 The tree house is one such way for kids to prank other Sims. This prank is only able to be done by a child. Have the child go inside the tree house and then call over another Sim to the tree house and dump water on them. This is quite funny and the perfect prank to pull on a sibling of the Sim inside the club house.
The Sims 3 WooHoo in Tree Houses
Although teenagers and adult Sims can't go inside of the tree house to play, they can rename it and some can even have fun it after the kids aren't playing in it.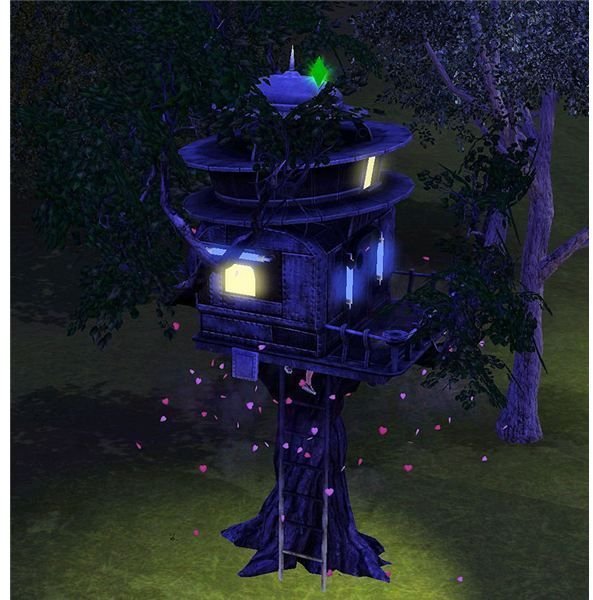 Adult Sims can have The Sims 3 WooHoo inside the tree houses. This is a new place for Sims to have sex, and it is only available for "Young Adult" aged Sims and older.
The Sims that have this romantic interaction inside The Sims 3 tree houses aren't seen because it acts like a "rabbit hole." You see the couple go up to the tree house and then you see hearts fall down from the club house (similar to how they fall down on a bed when having this interaction).
Sims what WooHoo in the tree house has a chance of getting splinter from performing that interaction up there.
References
All screenshots and references from The Sims 3.
Screenshots provided by the writer.