Play in a Magical The Sims 3 Fairy World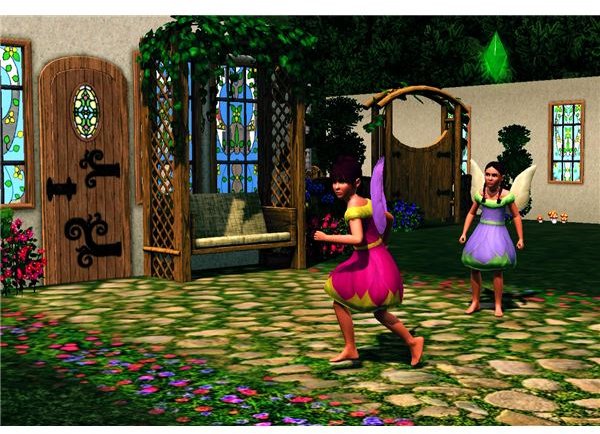 The Sims 3 Online Store
The official The Sims 3 online store offers gamers the ability to purchase and download content for their game. People can buy and download The Sims 3 fairy items, new clothes, furniture, vehicles, The Sims 3 Gothique Library which also includes spells, and much more for the game. New content is available each month and even though it does cost SimPoints, it is an affordable way to let players pick and choose what else they want to add to their gaming experience.
This is technically custom content but it is made by the same group that makes the regular content for your game. This is better for Simmers because it means that it usually won't cause game instability issues or cause errors. It can happen, but generally it won't happen from this kind of content.
Fairy Themed Items at the Store
The "official" items with a magical fairy theme that are available for download at the store includes items for the home and also attire that Sims can wear. They are available in sets and include the following items listed below.
**
Faire Folk Attire
Costs: 1,000 SimPoints
Includes: For females it includes six dresses, two tops, and one pair of pants. For males it includes one shirt and one outfit. For female children it includes four dresses including one with The Sims 3 fairy wings. Male children also have an outfit with fairy wings and also two other outfits with this theme.
Faire Folk Den
Costs: 650 SimPoints
Includes: Faire Bookshelf, Faire Dining Chair, Faire Curtain, Faire Desk, Magical Faire Door, Faire Ceiling Lamp, Faire Floor Lamp, Faire Table Lamp, Faire Wall Lamp, Faire Tale Shell Vase, Fantasy World Tree, Mystic Butterflies, Faire Fine Dining Table, Faire Folk Window
Faire Folk Slumber
Costs: 300 SimPoints
Includes: Magical Double Bed, Faire Dresser, Midnight Moon Wall Lamp, Enchanting Mirror Wall, Spellbound Diary, Faire End Table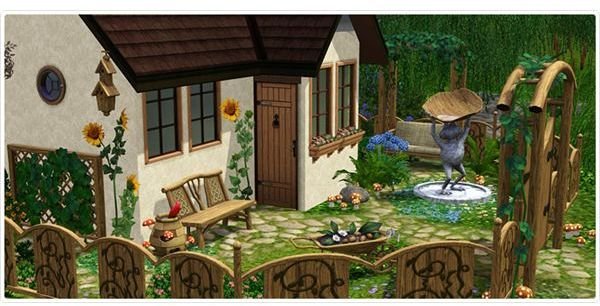 Faire Folk Outdoors
Costs: 350 SimPoints
Includes: Mystical Fence, Magical Faire Gate, Faire Frog Fountain, Enchanting Faire Loveseat, Faire Folk Bench, Faire Folk Birdhouse, Mystic Mushrooms, Faire Folk Jar, Faire Wheel Barrow, Faire Vine Wall Sculpture
Sweet Escape Nursery
Costs: 650 SimPoints
Includes: Fantasy Activity Table, Dream Bookshelf, Sweet Dream Seat, Little Lullaby Crib, Dreaded Dresser, Fair Folk Easel, Lit Floral Lamp, Vined Mirror, Toybox of Dreams, Window of Dreaming
Note: This isn't technically one of The Sims 3 Faire sets, but it does go extremely well with the other sets.
Tip: You can purchase the sets separately or you can purchase each item singly if you only want a few. You can also purchase some of these sets together in a package. For instance, for 1,800 SimPoints you can get a small discount with the set that includes the attire, slumber and den sets all in one package.
Create or Download a Fairy Themed Home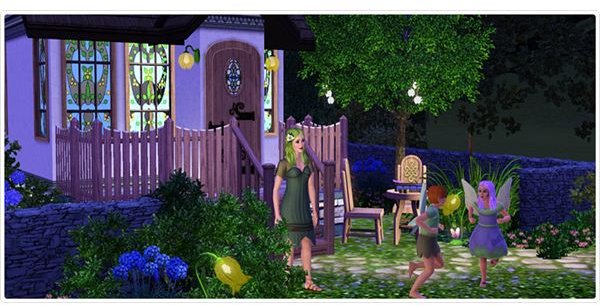 In addition to all of the official additions that you can buy to add to your home, you can also download fairy themed homes for your Sims to live in. You could of course always create your own, but many people don't like taking the time to actually build their own Sim houses. If you do want to create your own fairy themed house or lot, be sure to use bright colors, flowers and of course as many of the fairy themed items that you purchase from the store.
A good place to look for these homes is to go onto The Sims 3 website and search in the "Exchange" area for "Fairy" and then sort by downloads or type (for instance, as just showing The Sims 3 lots).
Fairy Wings and Attire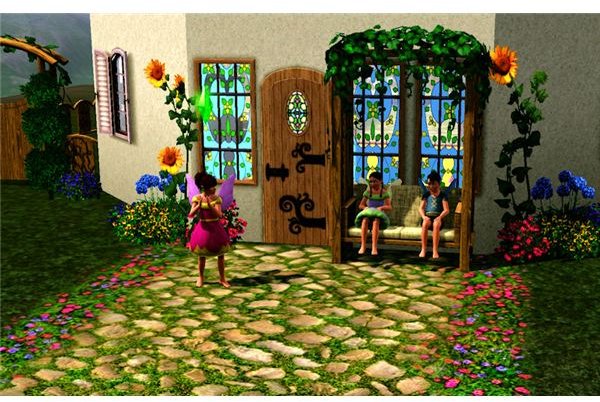 The fairy attire set that is available for purchase only includes two outfits that have actual fairy wings and they are only for children aged Sims to wear. If this is just not enough (which for most it isn't), there are other options available to download for free.
The butterfly style The Sims 3 fairy wings for "The Sims 3" can be found on Mod the Sims and is quite honestly the best set that I've seen available and also used in my game. You can recolor them to custom colors for your Sim and will work with children, adults and elders in the game. There are also smaller wings available from the same designer. To use these it is recommended to be used only on computers with a good graphics card and also with the textures turned up in the game. That way, they will look the best and will be worth the time and effort to download and use in your game.
References
All screenshots and references from The Sims 3.
Screenshots provided by the writer.