Nancy Drew: Stay Tuned for Danger Walkthrough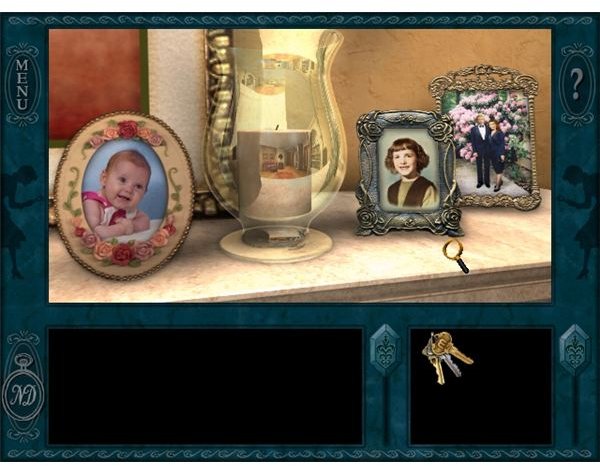 About the Game
Nancy Drew: Stay Tuned for Danger is the 2nd release of Her Interactive with regards to a serialized game based on popular books by Carolyn Keene. Stay Tuned for Danger takes Nancy and her players to New York right after her successful case in Florida (Secrets Can Kill). This time, its not about murder but about a mysterious stalker who vows to darken the days of popular soap actor, Rick Arlen.
Mattie Jensen his co-star has asked Nancy's Aunt Eloise to ask her to aid in the investigation. So for better or for worse, let's enter the world of Hollywood!
Meeting Mattie Jensen
Go to New York with Nancy Drew and get Nancy embroiled in the world of prime time television. Nancy's Aunt Eloise (from Secrets Can Kill) is having her house rented by famed actress, Mattie Jensen. After hearing about your exploits, Mattie has requested for you to help with uncovering the secrets of the set - presumably, who's been threatening to kill her co-star Rick Arlen.
Begin your quest by clicking on the address of Mattie's apartment on her map. She'll be waiting for you in the living room. Talk to her about the death threats in the form of letters, and the message about the teleprompter. You can also ask about the chocolates if you want to. After getting you acquantined with the case, Mattie will leave for her work and leave you a set of house keys
Exploring Aunt Eloise's Apartment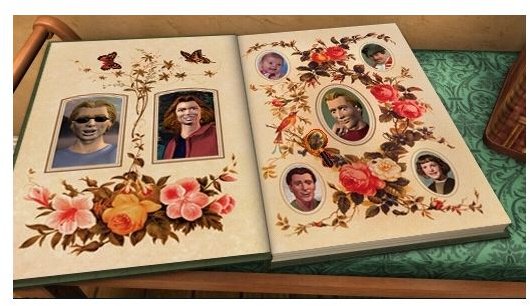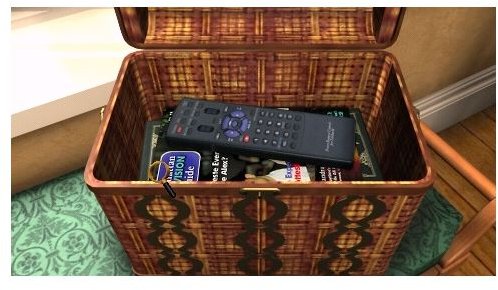 When she's gone, explore the living room. You should find a remote control for the television in a basket underneath the window, a bunch of letters in the desk drawer and a card on top. If you look around the room, you'll find clues that will hint at a relationship between Mattie and Rick that go beyond the platonic. There's photos of Rick and Mattie in a supposed wedding album, as well as other photos on her desk. Hmm, are they having an affair? But is this love affair requited or is your client that culprit behind the disturbing letters? Also, check out the various magazines strewn around the house - one in particular talks about Rick's rumored plans to leave the set.
Anyway. time to head out. Leave the living and proceed to the set. On your way though, don't forget read the note by the phone as well, and then call your beau, Ned. You can have a little sweet banter between couples if you want. If you like a little dialogue in your games, you can also call George Fayne after calling Ned, for some recap of the story so far. With that, let's head out to the studio.
The Worldwide Broadcasting Studios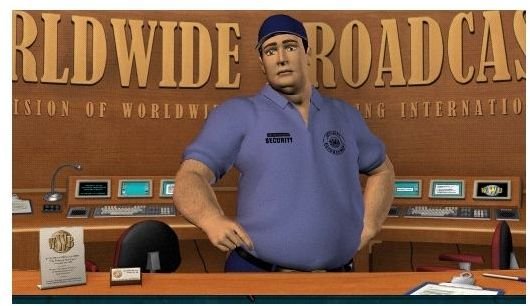 Leave the house and get to 999 Broadway, where the Worldwide Broadcasting building stands. Get to the Front Desk and pick up your visitor's pass. The guard will inform you that you need to sign in every time you visit the studio. Before you go though, it's crucial you check out the magazine in the lobby. Notice that some letters are cut out? Hmm, seems you have found where those letters were cut out from.
Once your in, keep walking down and past the office of Sandra Ward, the casting director, Lillian Weiss the director and the Prop Room. Then turn around and head back to the other hallway. You'll be passing by Bill Pappas' office - where you'll overhear a strange phone conversation about someone who wants to break a contract with him and what he plans to do. Disturbing world, this prime time television isn't it? Anyway, walk to where Mattie Jensen's room will be and enter.
Exploring Mattie's Room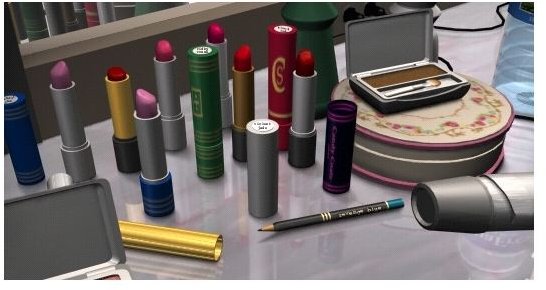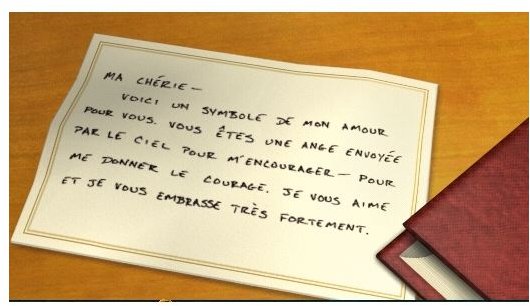 Mattie will talk to you about Rick, their past affair and who seems to be most likely to harm him. She'll leave you alone to sleuth around her room so make the most of it by checking out that French love note by her chair, the script on the couch, more news clippings about Rick's leaving the set, and this lipstick you'll find in Mattie's drawer. Also, check out Mattie's impressive lipstick and perfume collection. On top of the other armoire opposite the sink are fan letters sent out to Mattie and more importantly, a little jewelry box containing a torn letter.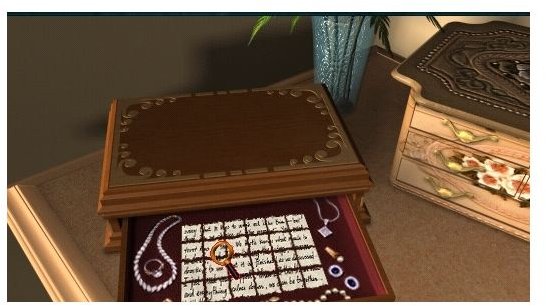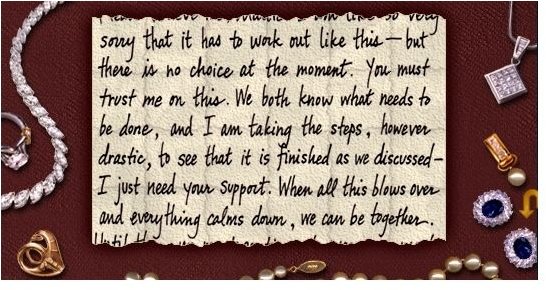 Piece together the letter by moving and rotating the torn pieces of paper around. To rotate a piece of paper, click on the upper lefthand corner of the note until you see the rotate sign. The finished note will look like this (see image below). It will be definitely easier for you if you rotate the notes to their proper positions first before starting to piece them together and moving them around. Unfortunately, the letter doesn't really clue you in on the situation - who wrote this letter and needs to be done in order for these two people to be together?
Moving On
Think you've done everything I ever mentioned in this guide and are straining to go onwards? Then wait no further, as the next article guide for the Nancy Drew mystery: Stay Tuned for Danger awaits you. Next up, let's see what really goes on behind the set of a soap opera. Is it as beautiful as it looks on television, or is there something more sinister behind the lights, camera and action?
This post is part of the series: Nancy Drew: Stay Tuned for Danger Walkthrough
This is the guided walkthrough for the PC adventure mystery game, Nancy Drew: Stay Tuned for Danger.