Download Twilight Cullen House for The Sims 3 and More!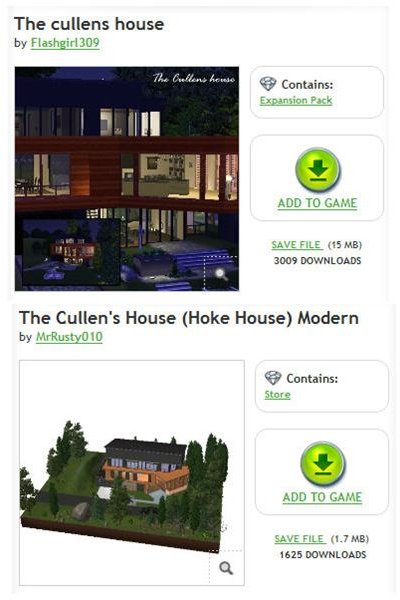 Twilight
The Sims 3 lets players create and exchange with others their creations. Some of the very cool creations users have made involve replicating famous houses, community lots, and even create some movie or book related worlds. This article will tell you where to go to find the best of The Sims 3 Twilight buildings to download, such as the Cullen house, Bella Swan's house, and more!
Caution: as with all "Custom Content" for The Sims 3, be careful what you download, and who from. The downloads I've provided all come from the official The Sims 3 Exchange, but some of the custom content in them may not work well with your system and game. If it does not work, simply uninstall it and perhaps try one of the different options I've provided.
Cullen House
One of the most memorable scenes in Twilight is of the Cullen house. It is different in the movies than in the book, but that is okay. If you want to play with The Sims 3 Twilight characters and immerse them into the Forks world, you will need to download the Cullen's house for your Sims 3 game.
The Sims 3 Cullen House – option 1 – 4 bedrooms, 3 bathrooms, and a swimming pool. This one does contain items from The Sims 3: World Adventures and is 15MB. This is my favorite option of the two, but they both are really great.
The Sims 3 Cullen House – option 2 – this is another good option for downloading the Cullen's house into your game. It contains more greenery and a longer driveway than the first option. This download is only 1.7MB and includes the "Hydrocombo Lighting" from The Sims 3 Online Store. If you don't have it, it will just put in something similar that you do have.
Edward and Bella's Cottage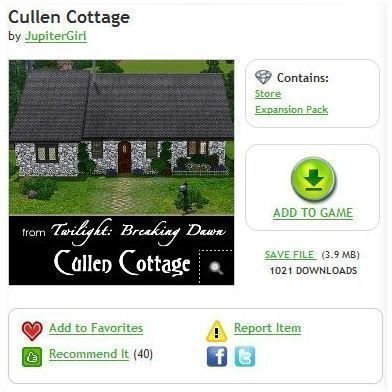 The house that is given to Edward and Bella after they get married in Breaking Dawn, is a cottage in the woods. It is not yet seen because the movie isn't out yet, but this download of the cottage is actually quite nice and could be placed next to your The Sims 3 Cullen house you downloaded above. Find out how to get married in The Sims 3 before you move them in!
Edward and Bella Cottage – download – this is the only one I found, but it is really nice. It resembles what the cottage looked like in the books, sort of. More will probably be available after Breaking Dawn is released in theaters.
Bella Swan's House
Bella Swan's house is another building download you would probably want to get for your Twilight themed Sims 3 game. Many scenes take place at her house, and it is where one of the main characters lives for most of the series.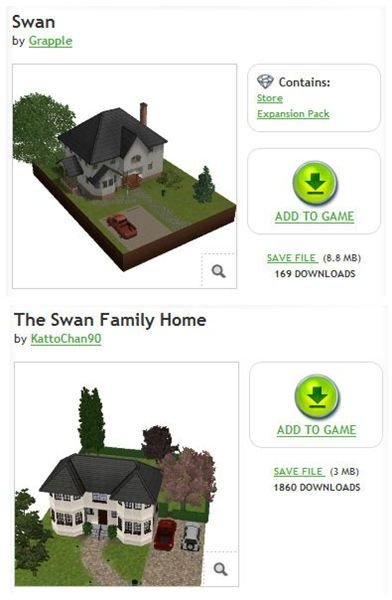 Bella Swan's House – option 1 – this download includes the Swan house, and Charlie and Bella (and even Bella's truck). It looks similar to the house in the movies, so it is a great option. It does contain items from the official store, and the World Adventures, Late Night, and Ambitions expansion packs.
Bella Swan's House – option 2 – this option is fantastic for The Sims 3 Twilight buildings! It is a house that looks very similar to the Swan residence in Twilight. It doesn't include many furnishings, but that means no store items or expansion packs are required, which is nice for those that don't have them.
Forks High School
Bella, the Cullens, and all of the other Forks students attend Forks High School. This is a must have for your Twilight town in The Sims 3.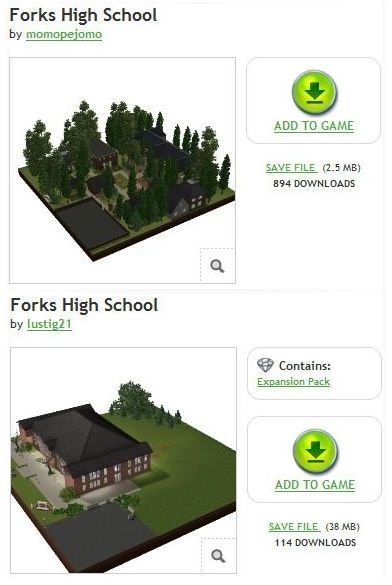 Forks High School – option 1 – this is my favorite option because it looks like it was described in the books. It also does not contain store or expansion pack items, so everyone can use it.
Forks High School – option 2 – this is another great option that looks like the high school that is shown in the movies. It does contain items from World Adventures and Ambitions.
La Push Market and Diner
The La Push buildings aren't really in abundance for download. However, I did find one that could be added into a La Push area in your The Sims 3 Twilight world.
La Push Market and Diner – download – this looks like it could be in La Push, and was made for that effect. It is a good option for the La Push area anyways.
Twilight Worlds
What could be better than The Sims 3 Twilight buildings that you can download into your game? A whole Twilight inspired Sims 3 world for your Sims to live in!
Twilight world – download – this is a great option for your very own Twilight world in The Sims 3.
Forks world – option 1 – this is a great Forks inspired world to take your Twilight buildings and characters to the next level.
Forks world – option 2 – this is another great option for a Forks inspired world.
Perhaps try out all three of these and then use the one you like best. Have fun, and if you have The Sims 3: Late Night, don't forget about making some characters as Sims 3 vampires!
Image Credits
All images for this article were screenshots taken by Sheri Newton, the writer of this article, from The Sims 3 Store preview of the downloads.
This post is part of the series: The Sims 3 - Twilight Downloads
Twilight inspired downloads for The Sims 3 game. Find out where you can download Twilight themed buildings, worlds, and The Sims 3 characters based on the characters from the series.