Have Fun Outside with The Sims 3 Water Slides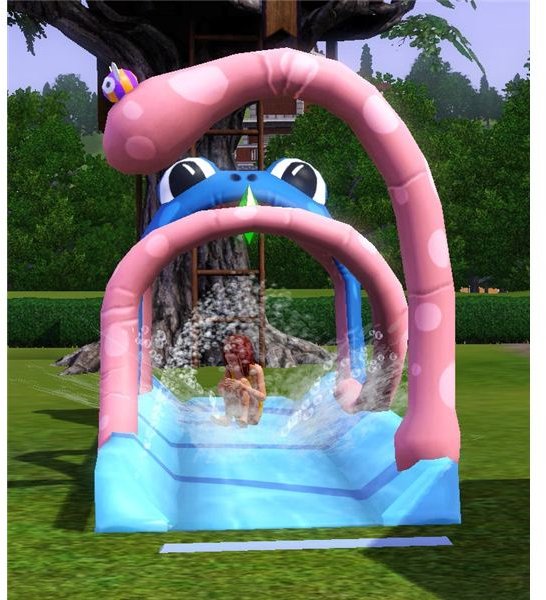 The Sims 3: Generations
Outdoor activities are the perfect kind of entertainment for outdoor parties or for a family night with your Sims in the game. The Sims 3 water slides and tree houses were added with "The Sims 3: Generations" expansion pack. This adds to the outdoor fun options available for your Sims. Pools, hot tubs and these new water slides can make a hot summer afternoon more enjoyable, even if it is just by watching your Sims have fun outside.
Outdoor Fun
Throw a party at your Sim's home with the attire set for swimsuits and get ready for some outdoor fun. Be sure to have a pool, hot tub, or at least the new slides setup and ready on the lawn before the party starts. Parties also need music, so have some sort of stereo outside for the guests to dance to or listen to as background music. Additionally, you could buy a dance floor for the Sims to dance to the music on or buy a bubble machine or other things you'd find at one of The Sims 3 clubs from the "Late Night" expansion.
Add some balloons from the "Buy Mode" in decorative colors that fit the mood of the party. Buy the buffet table and serve food when the party starts or just after it starts. If your Sims don't have the money for that, use their cell phone and under "Services" order pizza for the party.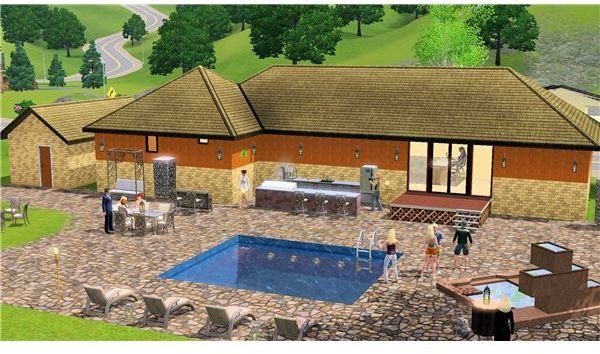 If you have "The Sims 3: Late Night" installed on your game, purchase the bar and some stools to serve special drinks at the party. If your Sims haven't learned the Mixology skill yet, or they don't want to spend time making and serving drinks to the guests, you can also hire a Mixologist to tend the bar while the party is going on.
Pools and Hot Tubs
Pools are created in the "Build Mode" and are quite affordable for Sims to have at their home. This is a great way for Sims to earn skill points in athleticism and they can even have fun with The Sims 3 skinny dipping in there.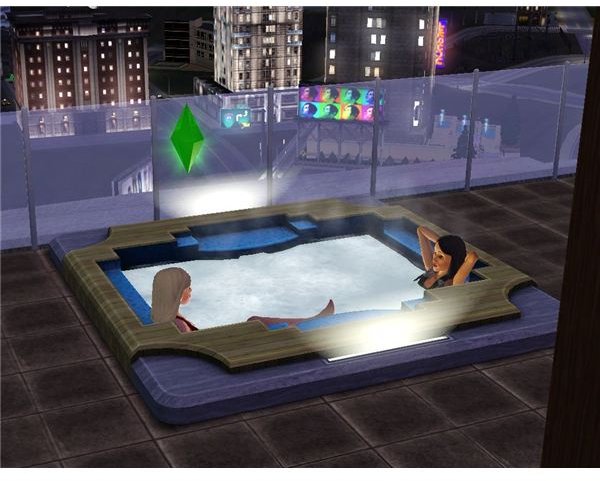 Hot tubs were introduced into the game with the "Late Night" expansion pack and Sims can also go nude in there or even "WooHoo" in them. Sims can't have such romantic interactions at parties though because it is likely that a child will be on the lot (which makes it something you can't select to have them do).
Pools and hot tubs are great to have for the party location though because they are fun for Sims to use and allows them to have fun in their swimsuits.
The Sims 3 Water Slides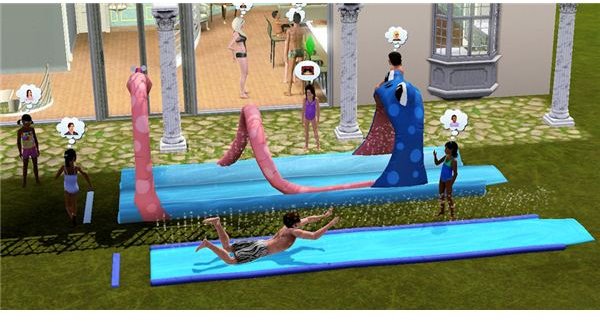 The water slides that were added with the "Generations" expansion pack are a big party pleaser for Sims of all ages. Sims that are already in their swimsuits will gravitate to the water slides to have slippery fun. Even if the party wasn't supposed to have swimsuit attire, you'll notice that many of the Sims will change into their swimsuits to slide!
The more slides that are available for Sims to use at a party, the more Sims will play with them. So, if a Sim's backyard is big enough, have a few of the water slides out for guests to slide on. They'll have fun running back and forth and taking turns, but only a few Sims can join on the fun at a time with each slide.
Types of Slides
There are two new types of water slides for outdoor fun with your Sims. They aren't very expensive, so go ahead and buy them both or the more expensive one. The two types that are available with the "Generations" expansion pack are listed below.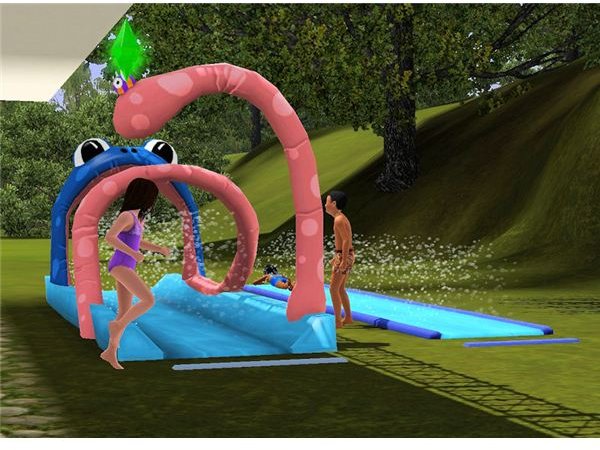 Ultimate Backyard Slide
Costs: $500
This is the slide with the simple design but is still fun for Sims to use. A minimalist backyard or Sims that think they are too cool to slide through the mouth of a frog would prefer to use this one.
Rib-it Rib-it Froggy McFrog Slide
Costs: $650
This is The Sims 3 water slide that looks like you are sliding out of the frog's mouth. This is a very cute option and perfect for Sims with younger Sims!
These two slides work well side by side for more Sims to enjoy this outdoor activity, so use The Sims 3 money cheat if you have to and purchase them both for a party!
References
All screenshots and references from The Sims 3.
Screenshots provided by the writer.