The Sims 3 Late Night Club Guide in Bridgeport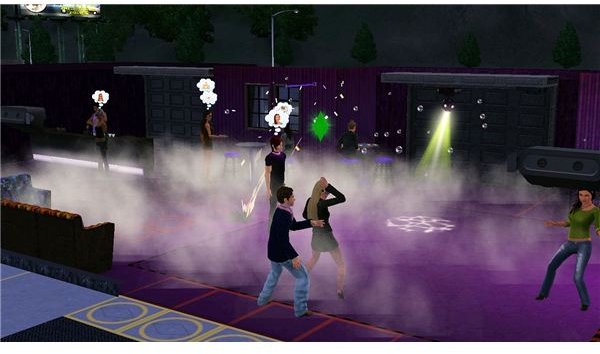 The Sims 3 Late Night Club Guide
Bridgeport is the new town that is added in with the Late Night expansion pack. This guide will go over the new types of activities that can take place in these new hot spot locations from the seedy dive bar to the vampire lounge and everything in-between. Night life activities in The Sims 3 Late Night club guide includes not just clubs but also bars and lounges.
Bouncers
Bouncers are at all of the clubs that cater to the celebrity Sims. If you don't have a celebrity status Sim, that is okay, you could still hang out with them at these locations. Bouncers aren't above bribing to let you past the velvet ropes. Give them enough money, sweet talk them, and you'll be allowed inside. The more exclusive the club though, the harder it is to get in.
Once inside, have fun drinking and dancing, but also try to impress a celebrity to improve your celebrity status too!
Clubs in Bridgeport
There are three types of clubs available: dance club, poolside club, and disco club.
The Sims 3 Late Night club guide includes the following new clubs in Bridgeport:
The Grind
Open: 5PM – 4AM
The Grind is built in an abandoned warehouse and resembles a rave. It allows everyone inside to have a good time dancing and enjoying drinks. It has a double dance floor with lasers and gives the rave vibe.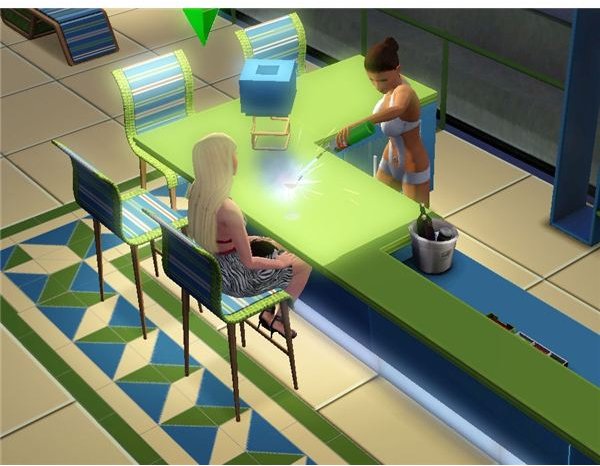 Aquarius
Open: 5PM – 4AM
This club has two floors for Sims to party at. The roof is the main area and has a large dance floor, pool, hot tub, and bar area. The bouncer keeps out non-celebrities, but is easily bribed. The penthouse area is the VIP portion and has a bubble bar, bar, and view of the pool's interior.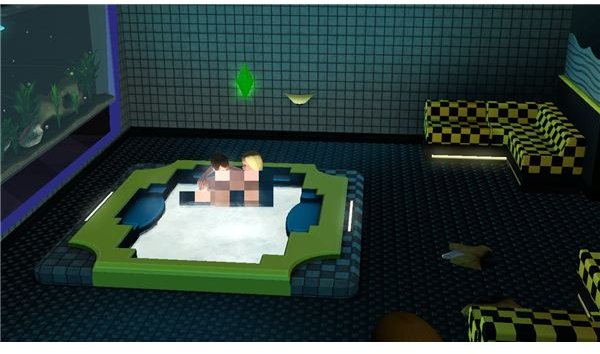 The Brightmore
Open: 5PM – 4AM
The Brightmore is the more exclusive club in Bridgeport. It has a large common room with a bar, an arcade and dance floor that only allows vampires inside. The VIP room is the most exclusive and requires Sims to have at least a 3-star celebrity rating (or very large bribe) to get past the bouncer. The VIP section has a hot tub, bubble bar and dance floor.
Bars in Bridgeport
There are three types of bars available: dive bar, local watering hole, and sports bar.
The Sims 3 Late Night bar guide includes the following new bars in Bridgeport:
Waylon's Haunt
Open: 11AM – 3AM
Happy Hour: 6PM
All Sims can get into Waylon's Haunt. It is the seedy dive bar on the outside of town and has caters more towards the shady Sims. It has a bar, small dance area, bar games, and a TV.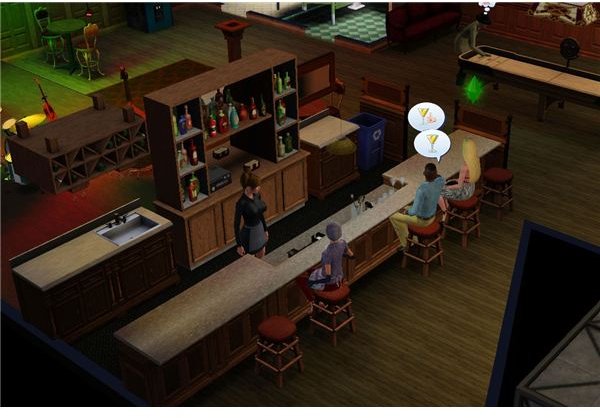 Eugi's
Open: 11AM – 3AM
Happy Hour: 7PM
Eugi's has a small dance area in front of a stage where bands can play at, or your Sim could jam out at. It also has a shuffleboard table, and dart board. Eugi's bar area is setup to resemble an Irish pub.
Bridgeport Sports Zone
Open: 11AM – 3AM
Happy Hour: 5PM
The Bridgeport Sports Zone is the classier bar in Bridgeport. The bounce doesn't let just anyone inside, and the VIP area only allows celebrities with 2 star rating (or a Sim that pays a bribe) into the exclusive area. Aside from the bar, there are also arcade games, bar games, and plasma TVs.
Lounges in Bridgeport
There are three types of lounges available: fusion lounge, vampire lounge, and exclusive lounge.
The Sims 3 Late Night bar guide and lounge guide includes the following new lounges in Bridgeport:
Bonzai Lounge
Open: 2PM – 2AM
The Bonzai Lounge has a Japanese theme and humans and celebrities are allowed inside (if they offer a bribe if needed). There is a bar, dance area, foosball, and shuffleboard in the common area. Inside the VIP area is an arcade and bubble bar. However, only Sims with 3 stars for their celebrity status are allowed inside (without having to pay a $100 bribe).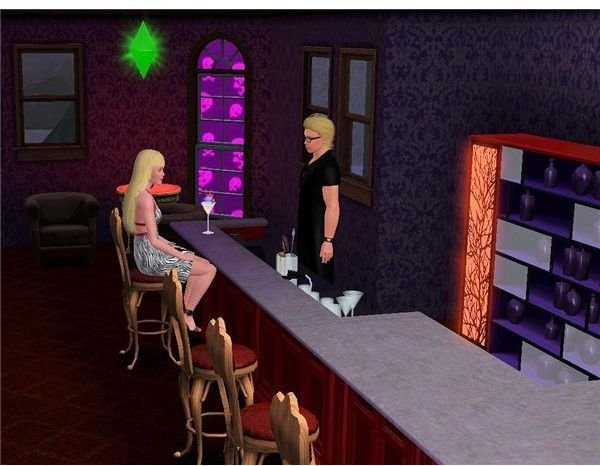 Plasma 501
Open: 2PM – 2AM
The vampire bar is called Plasma 501 and is on two floors. The bouncers let humans inside if they have celebrity status (or if they bribe them). There is a dance floor, piano area, bar, and balcony area. In the basement of this building is a crypt with two coffins and a staircase that leads to an alley outside.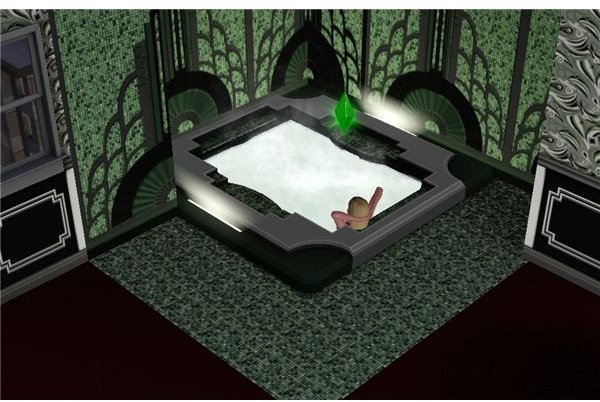 The Prosper Room
Open: 2PM – 2AM
The Prosper Room is the hardest venue to enter. It requires a large bribe to get into the main room (if not a celebrity). The common area contains a small dance area and bar. Only 4 and 5 star celebrity Sims are able to access the very exclusive second story of the building where there is a bubble bar, hot tub (where Sims can go skinny dipping), and watch TV. No bribing will grant access to this area.