Guide to Finding Hot Tubs in The Sims 3: Late Night Expansion Pack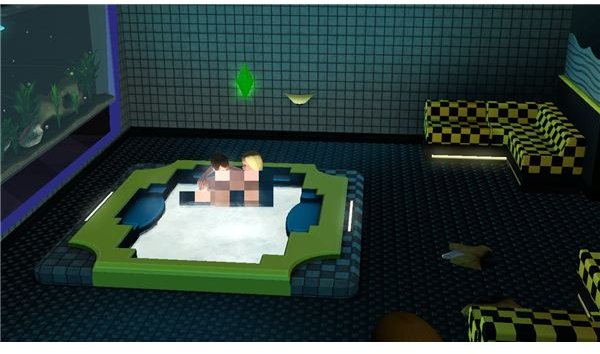 The Sims 3 is a highly customizable simulation style game. In previous versions of The Sims, players were able to purchase and use hot tubs in their game. However, that was unavailable for the newest version until hot tubs were introduced with The Sims 3: Late Night expansion pack.
When in the hot tub, Sims can chat with the other Sims in it, cuddle, kiss, and Sims are able to WooHoo in a hot tub, and even go skinny dipping in one. However, Sims are not able to skinny dip in the hot tub or in a pool if there is a baby, child or teen aged Sim on the same lot as your Sim that wants to go skinny dipping in the hot tub (or pool).
You also have the option of adding a portable stereo to it to listen to music while in the hot tub, and can also change the color of the lights in the hot tub.
Where to Find Hot Tubs in Bridgeport
Sims 3 Hot tubs are a favorite object and group activity for Sims to use in The Sims 3: Late Night expansion pack's new town of Bridgeport. They are so popular that they can even be found around town!
Buena Vista Resort – this is near the celebrity homes, but is a community lot that anyone can visit. The Buena Vista Resort in Bridgeport has The Serenity Hot Tub.
Clubs – Aquarius and The Brightmore both have hot tubs available for their Sims to use while there. The Brightmore's is in the VIP area and has an aquarium on the other side of it. Aquarius has their hot tub on the roof near the large dance floor for Sims to enjoy.
Lounges – only one lounge in Bridgeport has a hot tub. The Prosper Room has one that is rather hidden away, perhaps to hide the risqué Sims from the Paparazzi.
Bars – no hot tubs are available in bars. If you purchase the bar though, your Sim could always add one in!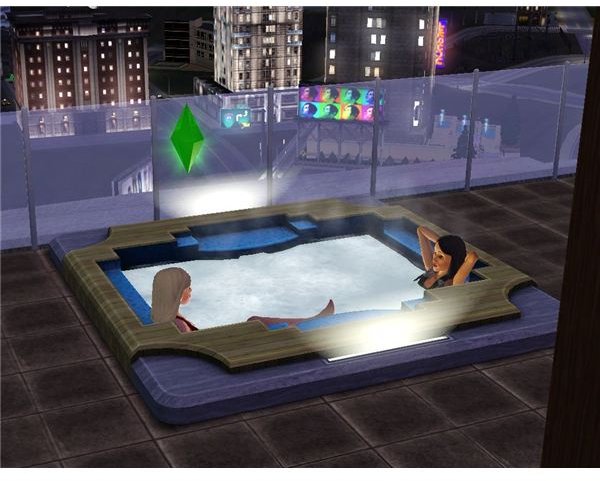 Penthouses – in some of the pre-made penthouses, apartments, and lofts there are hot tubs. Not all of them have it already, and you are always able to buy one in if you want your Sim to have one at their house.
How to Buy a Hot Tub
Your Sim might wish to buy a hot tub after they use one on a friend's lot, at a party, or at the club. It is a fun investment for your Sim, so go ahead and buy them one! If you don't have the money for the one you want, go ahead and use the Sims 3 money cheat.
It is easy to get Lifetime Happiness points for buying a Sims 3 hot tub. Just accept the wish, then go to the "Buy Mode" in the plumbing or bathroom section and you will see two types of hot tubs for The Sims 3. Only available with The Sims 3: Late Night expansion pack installed.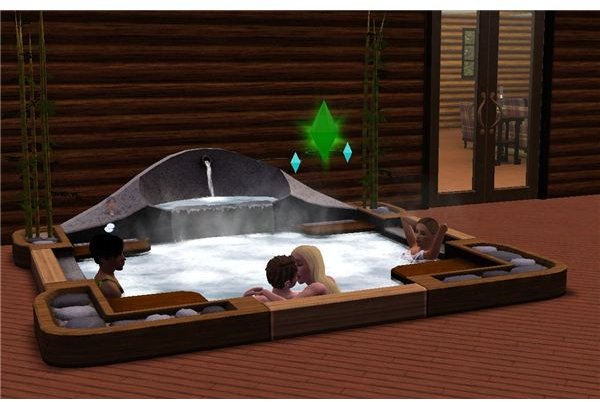 The Maelstrom Hot Tub is available for purchase for $6,500 Simoleons. It is the more basic version and is smaller. It has the following stats: Environment: 3, Fun: 4, Stress Relief: 3.
The Serenity Hot Tub is available for purchase for $12,000 Simoleons. It is the more luxurious version and has bamboo on it. It has the following stats: Environment: 4, Fun: 5, Stress Relief: 4.
If your Sim is a celebrity, they may even be sent one (or more) Sims 3 hot tubs for free to use at their home. Celebrity perks are more than just getting into the clubs, and really all Sims enjoy getting free things sent to their home – even rich Sims!