How to Decorate with Sims 3 Objects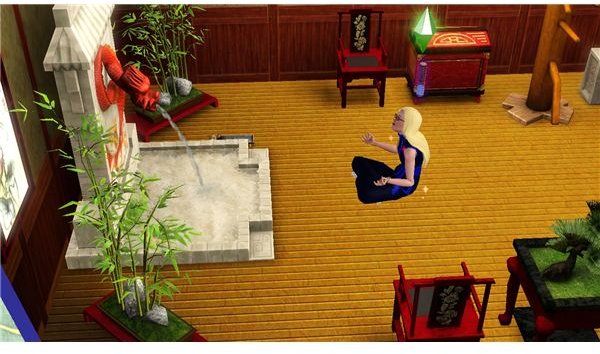 The Sims 3 Objects
The Sims 3 allows players to customize their Sim's clothing and even Sims 3 objects. Gamers are no longer stuck with just one type of pattern on a sofa - they can pick any they want! This extreme customization lets players create a truly unique decorative look for their Sim's homes and even on the Sims themselves.
How to Decorate in The Sims 3 - Objects
Decorating with Sims 3 objects is much the same as if you wanted to decorate your own home. Only difference is, we can't use the money cheat in real life to not work and still be able to afford everything we could possibly want. With the "Create a Style" option, this game really lets those who love to decorate and design have limitless possibilities on designing their Sims homes, and even places all over the neighborhood!
When your Sim moves into a house, it could be furnished or unfurnished. Often it is best to furnish it yourself, so then you can personalize your Sim's space and decorate it how you want it to look.
Before you begin the remodeling or decorating in general, get an idea of what you want to do in the space. If your Sim needs money, and you want to use the Sims 3 money cheat, go for it. If you don't want to use the cheat and don't have much money to work with, then you'll need to find items that are cheap – but you can customize those cheap items to look fantastic! Either way you want to go, get an idea or theme you want to accomplish before you just start buying items.
Themed Decorating
Decorating with a theme is always fun, and pretty easy. For instance, if your Sim recently visited Shang Simla (from The Sims 3: World Adventures) on vacation and loved it so much that they want to make a room in their house Zen and remind them of the visit, decorating with Sims 3 objects is easy!
First thing you want to do when decorating is to get your Sims out of the way of the way where you want to decorate and put the game on "Pause." That way your Sims won't be getting in the way when you are moving items around.
**
Second thing you will want to do is go into the "Build Mode" and change the wallpaper and flooring to match your theme. For this example, pick something that your Sim saw in China and alter it a little if you want, or keep it the same.
Next you will want to place your Shang Simla related items in the room. Move them around to be Feng Shui if you know how to, if not that is okay, your Sim will never know. Adjust them to be how you like and voila! Perfect new place to meditate and practice becoming a Zen Master!
Budget Decorating
Decorating on a budget is for those hardcore gamers that don't want to use a little money cheat. That is okay though, because you can still accomplish great Sim style on a budget. You'll just need to be a little picky on what you add to get the max benefits.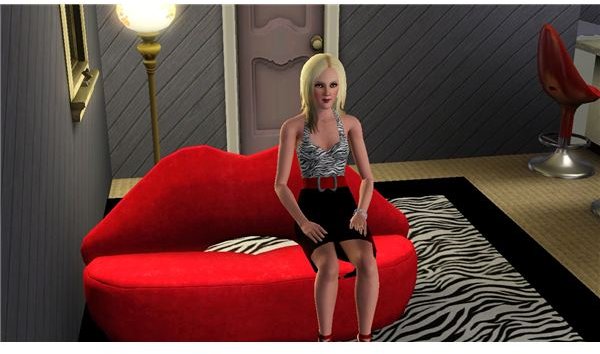 First thing you'll need to do is scope out what you can afford in the Buy Mode and also determine which pieces you need to add to your Sim's home. If your Sim is just starting out, it won't be much.
Purchase items that are funky if that is the type of stuff your Sim is into, and have fun customizing with something like the Red Lips Couch from the Dr. Pepper promotion, and a large rug that you customized to be in zebra print. Add some red barstools to your counter, and you don't even have to purchase a dining table! Only buy the necessities, but customize for the effect that you want to achieve.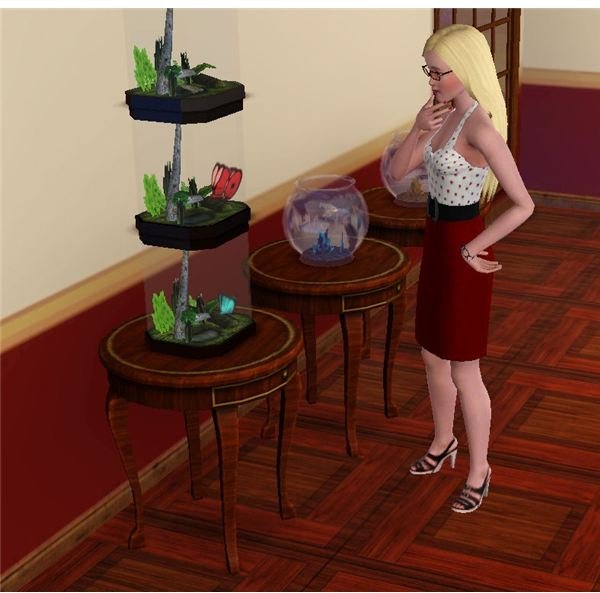 Décor can get expensive, so having your Sim involved in Photography is a great way to decorate your Sim's home – and it is practically free! For a kids' room, go catch some butterflies and add them as free pets for your kids! They don't even need to be fed!
Sims 3 Buy Mode
The Sims 3 objects available for use from the Sims 3 Buy Mode are placed into categories of either "Sort By Function" or "Sort By Room."
Sorting by Function gives the categories of: Plumbing, Appliances, Surfaces, Comfort, Electronics, Entertainment, Lighting, Décor, Storage, Kids, and Vehicles.
Plumbing – includes sinks, toilets, showers, and bathtubs.
Appliances – includes refrigerators, dishwashers, stoves, microwaves, trash compactors, food processor, coffee makers, grills, garbage cans, etc.
Surfaces – includes cabinets, counters, dining tables, coffee tables, end tables, desks, bars, displays, etc.
Comfort – includes sofas, loveseats, all types of chairs, beds, etc.
Electronics – includes computers, audio, TVs, clocks, alarms, etc.
Entertainment – includes hobbies and skills items, party goods, sporting goods, etc.
Lighting – includes floor lamps, wall lamps, table lamps, ceiling lights, and outdoor lighting.
Décor – includes paintings, mirrors, curtains and blinds, plants, rugs, and all random décor items.
Storage – includes dressers and bookshelves.
Kids – includes toys, kids décor, baby furniture, and kids play equipment.
Vehicles – includes cars, motorcycles, bicycles, scooters, parking spots, garage doors, and bike racks.
Sorting by Rooms in The Sims 3 Buy Mode includes: Kitchen, Bathroom, Bedroom, Living Room, Dining Room, Study, Kids' Room, and Outdoors.
Kitchen – includes small appliances, stoves, refrigerators, dishwashers, cabinets, counters, sinks, phones, and garbage cans.
Bathroom – includes toilets, showers, bathtubs, curtains and blinds, sinks, mirrors, bathroom accents, lights, and counters.
Bedroom – includes beds, end tables, dressers, plants, clocks, paintings and posters, phones, and lights.
Living Room – includes sofas, loveseats, living chairs, coffee tables, rugs, TVs, video games, audio, phones, alarms, lights, plants, and paintings and posters.
Dining Room – includes dining tables, dining chairs, bars, bar stools, lights, paintings and posters, curtains and blinds, décor, and plants.
Study – includes desks, desk chairs, computers, phones, bookshelves, lights, hobbies and skill items, paintings and posters, and indoor activity items.
Kids' Room – includes beds, baby furniture, toys, kids décor, lights, paintings and posters.
Outdoors – includes transportation items, outdoor lights, grills, outdoor seats, lawn ornaments, and outdoor activities.
Switching between modes is also helpful when looking for more unique things to add to your remodeling, or if you can't find a particular item to add, try changing modes to try it in a different category.
The Sims 3 Online Store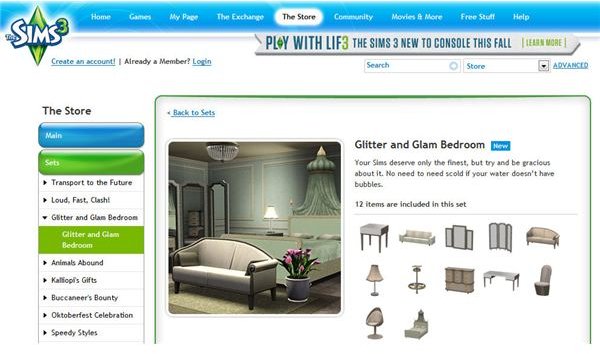 The Sims 3 Online Store is a great place to visit for design ideas that you can put right into your game. Check it out frequently for "Daily Deals" which sometimes is a whole set at a deeply discounted price! Also, check it out for free Sims 3 items that are offered throughout the year (especially during holidays).
Architecture / Interior Designer Profession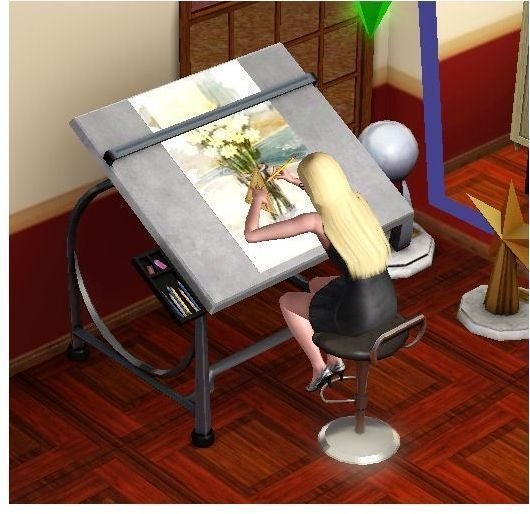 If remodeling and designing is fun for you to do while playing The Sims 3, consider having your "main" Sim family have a Sim in the Architect career path. That way, your Sim can makeover other houses in the neighborhood, and get paid for it! You will also need to have The Sims 3: Ambitions for this profession. Sims start out as a "Fabric Fetcher" and can become a "Dictator of Design" and somewhat of a local celebrity too.