Go Goth or Sexy with The Sims 3 Vampire Clothes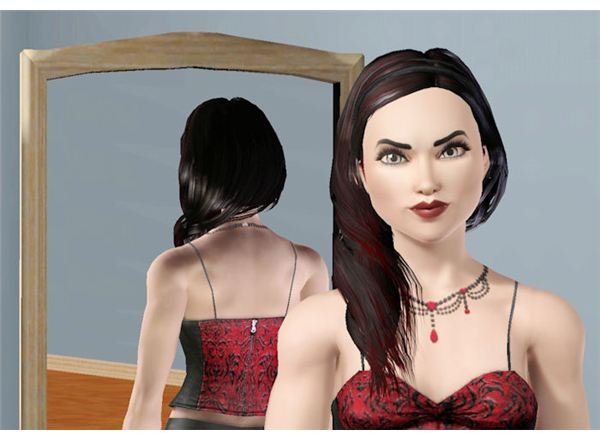 The Sims 3 Vampires
"The Sims 3: Late Night" added in a new town complete with a downtown area that has skyscrapers, clubs, bars, lounges, and The Sims 3 vampires. This is a returning life state that is very fun to play with in the game. These Sims exude a certain vampy sex appeal and seducing other Sims is more fun to do in game with these Sims.
This new life state to the game doesn't mean that the Sim with this condition doesn't age (though they do age slower than regular Sims). They won't die immediately if they are out in the daytime, but they will get burned and as such, don't enjoy being outside in the daytime.
They prefer the nightlife and love to put on The Sims 3 vampire clothes and go out to hotspots around town. These Sims go to the Plasma 501 vampire lounge (or other custom made ones for vamps) very often. They can also be found frequenting The Sims 3 vampire hidden bar.
Vampire Style
Vampires are creatures of the night and should dress with more of an edge and take more risks with their fashion choices than regular human Sims would.
The additional expansion packs and stuff packs for the game also include many new clothing options for your Sims. The "Late Night" expansion pack included more of the club type of fashions so these would be great to have your vamps wear. Just make those fashions be black or deep red, and there you go!
The Sims 3 vampire clothes isn't separate from regular Sims, so you will want to save the custom styles you create for vampires so you can use them again on other Sims in that town or in other towns you play with too. This will save much time in the long run!
Sexy Clothes to Buy or Download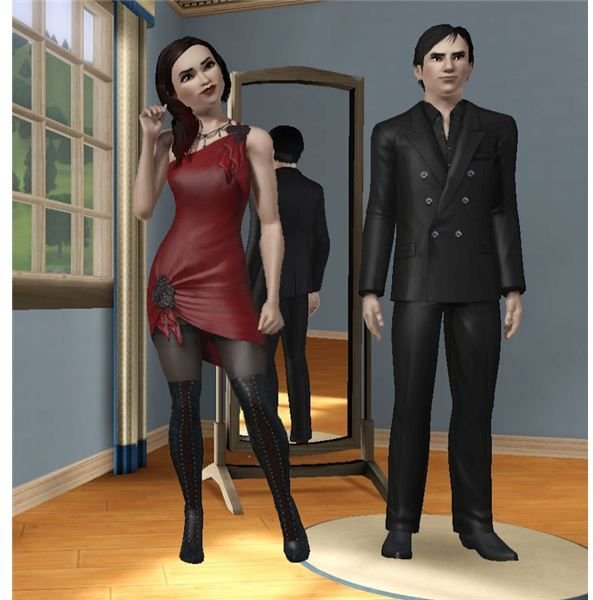 The official Sims 3 Store has a large amount of different types of clothes that you can purchase and download into your game. Remember that whatever you buy you can also edit once it is on your Sim and design it to be black leather, animal print, blood red, etc.
The Sims 3 sexy clothes are great for vampires because vampires have sex appeal and love to dress edgy. The more leather, fishnets, tattoos, and anything with a gothic feel to it the better!
Note: When downloading custom content for "The Sims 3" from websites other than the official Store, there are risks for files not working with your game and having the possibility to corrupt it. Before downloading anything, be sure to read reviews of the items and the designer. Even though most downloads will work, download from websites such as Mod the Sims at your own risk.
Sexy Vampire Sims to Download
There are many vampy and sexy vampires that you can download as whole Sims to add into your game. To find these, just do a basic vamp search on The Sims 3 exchange. This is probably the easiest way for most Simmers to download the Sims to play in their towns. Some of the downloads do require you to go elsewhere to download additional custom content, so be sure to make note of that when choosing which ones to download.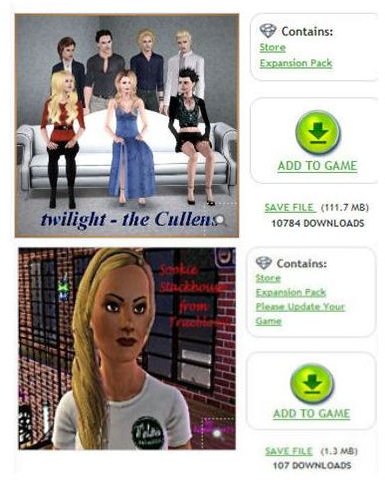 If you enjoy the "Twilight" series, you should really check out The Sims 3 Twilight downloads that are available to easily download into your game. These downloads make it really easy and fun to create your own Forks town and have some vampire fun with the Cullens. You could play as Bella and choose either Edward or Jacob (personally, I'd go for Edward). You can even download Bella's home and the Cullen's mansion.
If you prefer your Sims a bit more on the sexy and naughty side (which I do), then you also probably really like the "True Blood" series on HBO that is based on the "Sookie Stackhouse" series by Charlaine Harris. There are many of The Sims 3 True Blood characters and lots that you can place into your town in the game to create your own Bon Temps, Louisiana feel. Have your Sookie Stackhouse work at Merlotte's or play as Eric Northman and run Fangtasia. Will your Sookie choose Bill or Eric to be her man?
Aside from the characters in vampire series, the Exchange also has some seriously well-made vampires and The Sims 3 vampire clothes that you can download for your game. There are some really extraordinarily talented Simmers out there who have uploaded their creations for you to add to your game (for free). Just do a search and scroll through the most downloaded and top rated ones to find the crème de la crème. Be sure to also check out these designer's studio areas to see what else they have created that you'd also want to add into your game.
References
All screenshots and references from The Sims 3.
Screenshots provided by the writer.