The Sims 3 Town Life Stuff Pack Review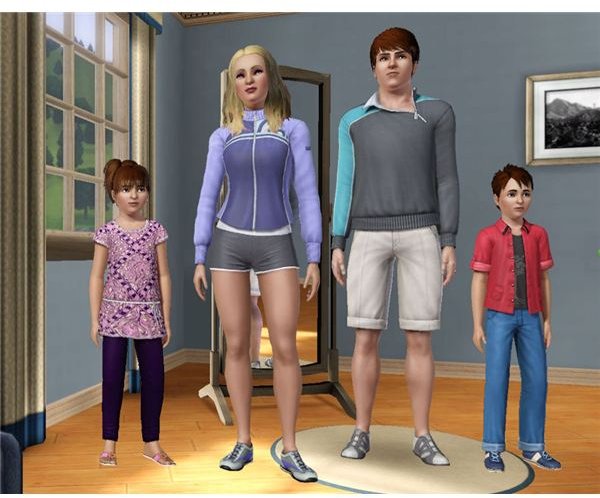 The Sims 3: Town Life Stuff Pack
"The Sims 3" releases new expansion packs and stuff packs throughout the year. Each one focuses on a certain theme to add to the game. "The Sims 3 Town Life stuff pack" is about life around town for your Sims. As with all of the new additions to the game, new The Sims 3 clothing, hairstyles and objects are a part of the package. What makes this addition different is that seven new pre-made community lots are also included. So, does it live up to expectations and is it worth purchasing to add to your game? Read on to find out.
New Clothes (5 out of 5)
"The Sims 3 Town Life Stuff Pack" included new outfits for most of the age groups but somehow left out teens yet again. I guess the developers thought that since they were close enough to being young adults that they could skip them? Regardless of the fact they didn't include all of the age groups, I do very much like what they added. There weren't many new clothes included but they were as good or better than an entire clothing set that could be purchased online at their store for around 1,200 SimPoints (which equals about $12). One of my personal favorite things that is added with the expansion packs and stuff packages are new clothes for my Sims to wear. I guess I am just one of The Sims 3 fashionistas at heart. So, did this live up to my expectations? Surprisingly, yes. I do think that they could have added in a few more outfits or separate pieces for each gender and age group, but it is just a "Stuff Pack". Thus, I wasn't really expecting a huge assortment of new clothing anyways.
New Objects (3 out of 5)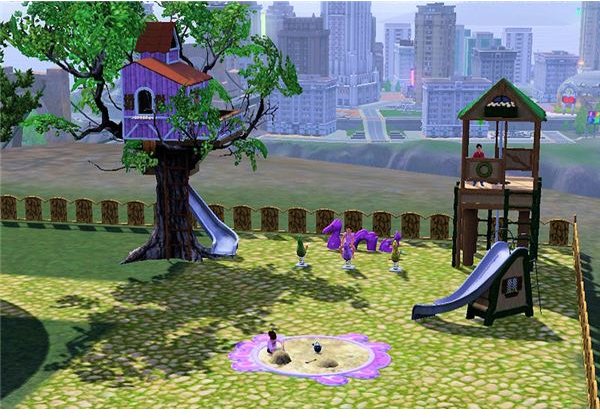 Another addition that people buy "Stuff Packs" for is for the "stuff" in them such as the objects. As with the different types of expansion packs, stuff packages have a certain theme and the new objects added to the game go along with this theme. For the "Town Life" stuff pack, this centers on things for Sims to do around town such as going to the gym, the playground, etc. As such, the new objects added includes new workout equipment, new playground toys and even The Sims 3 tree house for kids to play in. There are also random objects in other categories, but the majority of it is in this area. I think that the new items that were added are great; however, I really think that there could have been more added to this stuff pack.
New Pre-Made Buildings (5 out of 5)
"The Sims 3 Town Life Stuff Pack" may not have that much added to it as separate items, but there are seven different types of community lots that are beautifully made and can easily be placed into your neighborhoods. This saves time so you don't have to make the lots yourself and can bring more diversity to your neighborhoods. Based on the quality of these new buildings and the amount of the community lots added, I give this addition to the game a 5-star rating. Noble Tome Library
Lot Type: Library
Lot Size: 30x20
Cost: $144,329
Mr. Crunches Fitness
Lot Type: Gym
Lot Size: 30x20
Cost: $77,082
Sudsy Time Laundry
Lot Type: Laundromat
Lot Size: 30x20
Cost: $83,374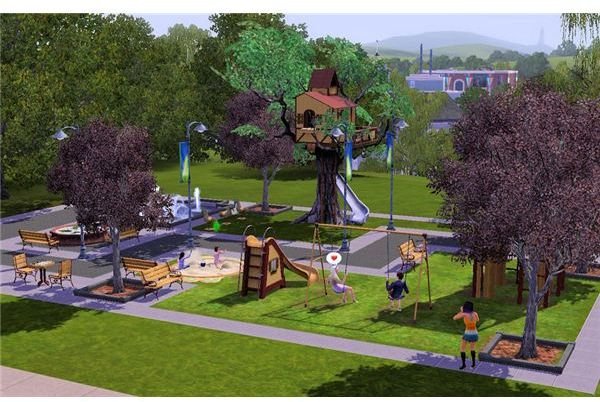 Ray of Sunshine Park
Lot Type: Small Park
Lot Size: 30x20
Cost: $70,028
Par Excellence Preparatory School
Lot Type: No Visitors Allowed
Lot Size: 30x40
Cost: $21,078
Fresh and Frozen Express Grocer
Lot Type: No Visitors Allowed
Lot Size: 30x20
Cost: $8,929
Scrumptious Nibbles Café
Lot Type:
Lot Size: 30x20
Cost: $17,269
The Sims 3 lots are easily placed into your neighborhoods with the "Edit Town" feature for the game. Just re-zone the area you want to place the lot to the type of lot it is and make sure it is at least the size that the lot is and you can place it into your town.
Graphics & Sound (5 out of 5)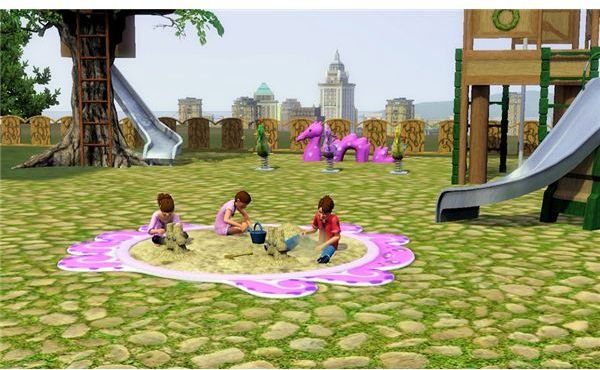 The graphics for "Town Life" are of the same quality as the previous additions and base game for "The Sims 3." The new items and other additions are of high quality and look brilliant when used in game.   The sound wasn't affected with this stuff pack, so it isn't fair to judge the quality of it based on the addition. It still remains as great as it was before, and as always, you can add in your own custom music to play on your Sim's speakers.
User Interface (5 out of 5)
The user interface wasn't changed with "Town Life." It is still as easy to use as it was before this stuff package. It is quite easy to figure out how to do anything you want from the interface, so I give it the max score possible.
Gameplay (5 out of 5)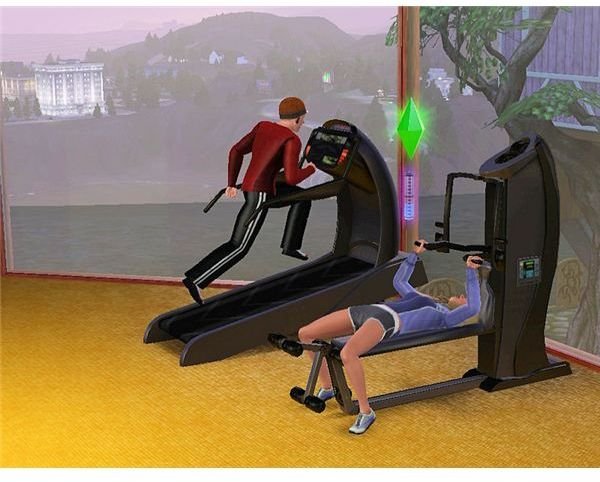 The new clothing, hairstyles, objects and lots add new places to visit and things to interact with for your Sims. This helps to keep the game playable for a very long period of time. There is always something new to do, build, wear, create, etc. The gameplay wasn't essentially changed as no new concepts were added, but that isn't what the stuff packs are about anyways.
Overall… (5 out of 5)
"The Sims 3: Town Life" stuff pack is a nice addition to your game. If you enjoy playing the game by editing the towns (or even creating your own) and like the ability to place pre-made buildings into the town easily, this is a really great addition for you. It also has a rather nice assortment of new objects and clothes. If this whole package was grouped together for one of the official store's downloads, it would cost well over three times the amount of money as this stuff package costs. It is worth the money and adds in high quality lots and content to the game.
References
All screenshots and references from The Sims 3.
Screenshots provided by the writer.