About Burger Bustle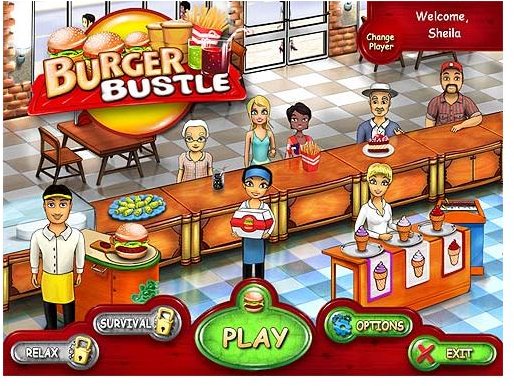 Burger Bustle is a time management game where your main goal is to serve as many customers as possible in each round. You then strive to beat the other fast food restaurant competition by trying to rank high in an overall performance list. The game has twenty restaurants to unlock with multiple bonus and food items available to you as you play.
How to Play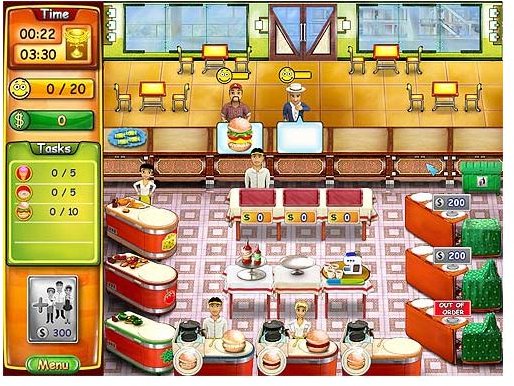 Each level in Burger Bustle works basically the same. Customer's arrive and decide what they want through thought bubbles at appear on the counter top space in front of them. Workers will need to be hired to prepare food, drinks and dessert items. You can then delegate specific tasks to each worker. Most will be involved with the preparation of food items. Others can be assigned to wrap and deliver the prepared customer's orders at a separate counter.
Money is earned as orders are delivered and when tips are left on customer tables who decide to eat at your restaurant. These funds can be used to hire more workers or open up other food stations. To get past each level, you will need to successfully serve a specific number of food items to customers or meet some other type of criteria.
At the end of each level, your score is based on money and smiles earned (happy customers). You are also given an overall ranking of bronze, silver or gold depending on how fast you completed the level.
Moving up in Rank and Winning the Game
When you start the game from the beginning, your overall ranking is at the bottom of the list. As you complete levels and earn points, you move up in rank, earn bonus items and unlock different restaurants. You technically win the game after completion of all levels in the twenty restaurants. However, this game has high replay value, since a "Survival" and "Relaxed" modes become available after a high level ranking is reached.
Game Hints and Tips
When food orders are completed, right click with your mouse to quickly get them to the food delivery worker counter.
Customers have three moods – happy, sad and angry. You can only earn smile points if a customer is happy. Sad and angry customer's mood can be improved by giving them candy (which is earned as an upgrade after completion of a few game levels).
Interior restaurant upgrades are mandatory items you need to select in between certain levels. These will slightly help improve customer mood.
To complete levels faster, immediately purchase food stations or hire workers needed to complete your current tasks as soon as you have earned enough money.
Workers can be moved between different food stations. However, as levels become more involved with multiple food items, it is better to hire more workers to take care of individual stations than having them move back and forth between tasks.
Burger Bustle offers awards or bonuses after you successfully move up in rank. The coffee award can temporarily speed up the performance of your workers and food equipment. The ketchup award can increase the selling price of food items when added. Silver equipment bonus gives a small speed boost to stoves and customer tables.
Watch customer tables for tips. These are coin icons. The game only lets you know they are there by a brief bell sound, so if you miss it tips can be lost if not picked up right away.
Keep an eye on your current level tasks. It is easy to get caught up in just delivering customer orders. Specific food stations may be needed in order for you to finish the level. If you somehow miss this, you can be playing a level indefinitely until these items are purchased.
Image Credit
Burger Bustle screenshots were taken by Sheila Robinson.
This post is part of the series: Burger Bustle Walkthrough and Strategy Guide
Burger Bustle is a fast paced time management game where delegating employees to specific tasks is crucial to success. This walkthrough and guide series will give basic game tips as well as strategies for each restaurant to help you earn the expert gold trophies.