The Sims 3
The Sims 3 gives users fun experiences for their Sim characters for the holidays. The Online Store often gives holiday themed items either for free or for a small amount of Sim Points. There are also fun options that you could easily throw a fun The Sims 3 Halloween party from the base game content, store downloads, or from custom content on other websites.
Free Halloween Downloads for The Sims 3
The Sims 3 Online Store gives two free Halloween sets perfect for The Sims 3 Halloween party: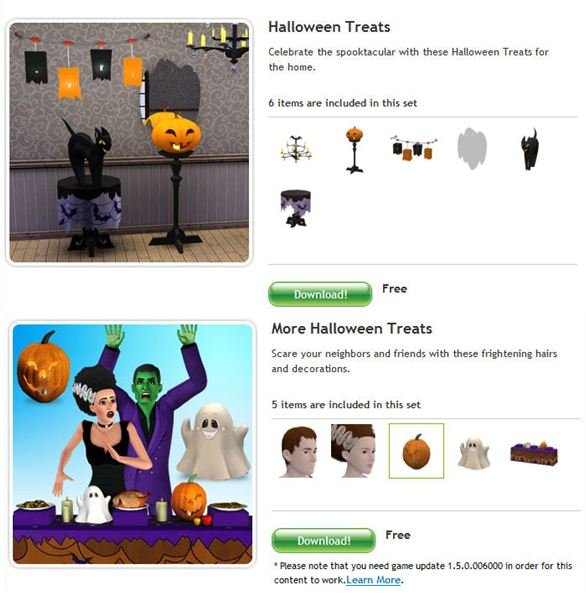 Halloween Treats – includes: Skullbatter's Chandelier, Jack O'Floor Lamp, Clark's Pack of Ghosts, Reflecting Ghost, The Mysterious Cat, and Dark Midnight End Table.
More Halloween Treats – includes: Franken-Hair, Bride of Beehive, Jack O' Light, Boooo Light, and Dark Midnight Buffet Table.
Another good free option is the Harvest Bounty set. This set includes: Thanksgiving Table Light, Thanksgiving Floor Cart by Louie's Market, Thanksgiving Pumpkin Plant, Thanksgiving Pumpkin by Angela's Designs, Thanksgiving Wall Shelf, and Thanksgiving Wreath.
The Gothique Living and Sleeping Rooms sets also gives great objects to place for a Halloween Party, but this is not a free set. It costs 950 Sim Points for 24 items.
Sims 3 Halloween Costumes
Your Sims need to dress up for Halloween! Here are some great options for The Sims 3 Halloween costumes: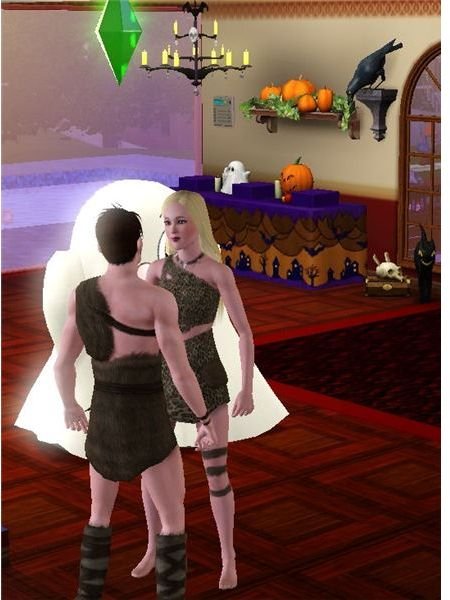 Time Travel – if your Sims have used the Time Machine (available for inventing with The Sims 3 Ambitions), then you've probably already unlocked some of the outfits available through this. If not, hop in the device to get some before Halloween! Traveling to the past will unlock the Prehistoric Rags and Medieval Attire sets. Traveling to the future will unlock a Futuristic attire set. With these, you'll have instant Halloween costume gear!
Vampires – if you have The Sims 3: Late Night, be sure to invite some vampires to your party to scare your guests and to perhaps spice up the party. They like to watch the horror channel on TV, so make sure to have that and blood available for them.
Fairy Costumes – The Sims 3 Online Store has fairy sets. The Faire Folk Attire is great for the Halloween costumes for kids and adults!
Barnacle Bay Themed Costumes – the clothing options that came with Barnacle Bay and the added set are fun for a costume party. Great for a family or couple style costume too!
Career Costumes – Sims can go to the party in their work related outfits and show off being a firefighter, rocker, ghost hunter, and many more careers. Also, the racecar outfits from The Sims 3: Fast Lane Stuff is a fun costume for those living life in the fast lane.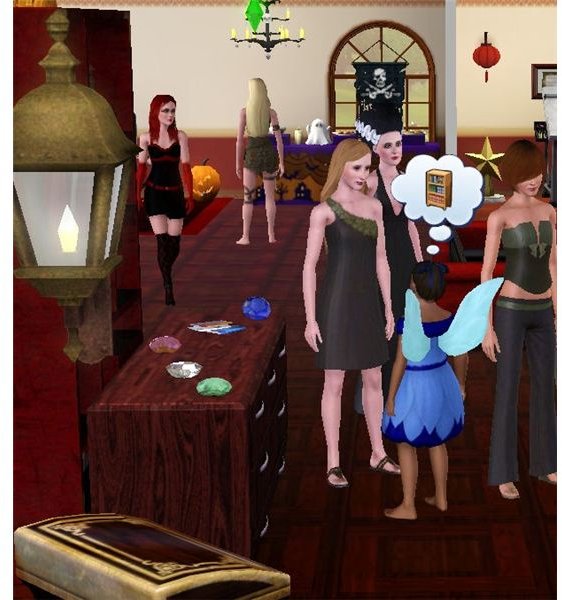 Download More Costumes – you can probably find whatever you want your Sim to dress up as for Halloween somewhere online. There are many celebrity Sims to download, movie characters, such as the Sims 3 Neytiri, and many more. Check out The Sims 3 Exchange, and websites such as Mod the Sims and Peggy Zone.
How to Throw a Fun Halloween Party in The Sims 3
To throw a fun Halloween party, you first need to make some preparations. Think about which decorations and costumes you would like, and then go for it!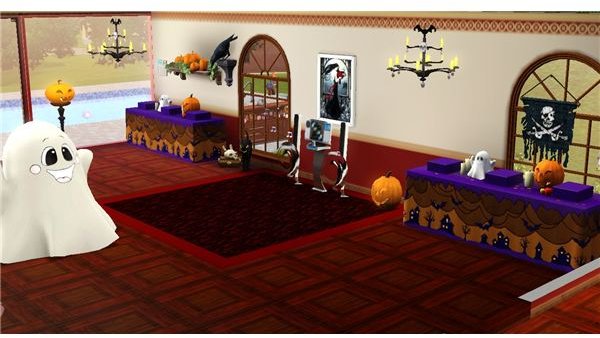 Decorate – decorating is one of the most important parts to throwing The Sims 3 Halloween party! Download the free packages offered through the online store (as featured in the above section), or download some other custom content objects that are gothic and Halloween themed. Then, after it is installed into your game, decorate the location of the party.
Costumes – in order to have your Sims show up in their costume attire, make sure that they are wearing it before you invite them. To do this, simply change the active household and put them in their costumes before the party. You can always change them back later. As another option, if your Sim is in the Fashion Career, you can solicit styling services to the Sims you want to invite and just put them in the attire – and make some extra cash while you're at it!
Music – make sure that you have music to let your party goers dance and have fun at the party! Throw in some scary custom music to enhance the effect (on your end at least).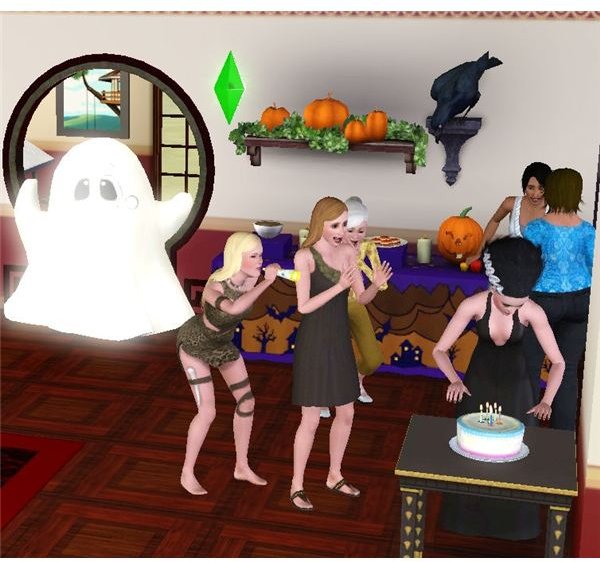 Food – make sure that you order pizza, or serve the food available with the Dark Midnight Buffet Table. Keeping your guests well fed makes them happy! If inviting vampires, make sure to have plasma, or a willing donor or two.
Have fun!