What is the Stuff Pack?
Want to turn your Sim's backyard into a beautiful oasis to entertain all of their family and friends? Well, the new "The Sims 3 Outdoor Living Stuff Pack" will give you everything you need to start BBQing and entertaining for the neighborhood! This is really the perfect solution to make the backyard a new living area in your Sim's home. Find out more about it in this review.
The Sims 3: Outdoor Living Stuff Pack – New Clothes and Hairstyles (4 out of 5)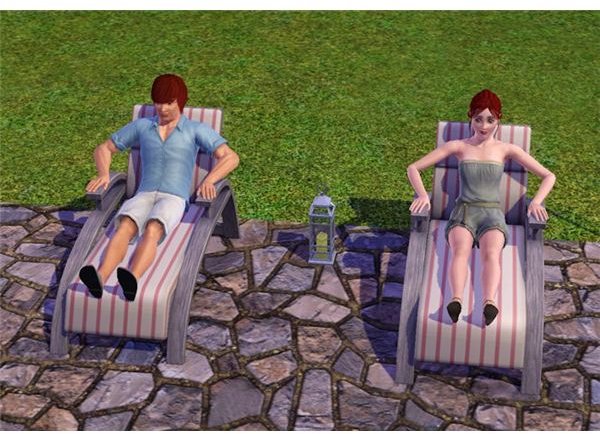 The expansion packs and stuff packs for "The Sims 3" series includes new clothing and hairstyles for your Sims. This stuff pack gives options that are good for lounging around by your pool or at the beach.
New Clothes
Adult and Young Adult female Sims received four full outfits, two tops, two bottoms, and one new pair of shoes.
Adult and Young Adult male Sims received three tops, three bottoms, and one new pair of shoes.
The new clothes are all very nice and perfect for the stuff pack. However, there were no new items available for Elderly Sims, Teenage Sims, Child Sims or Toddler Sims. There were also no new pajamas, swimsuits or even sunglasses (which really should have been added).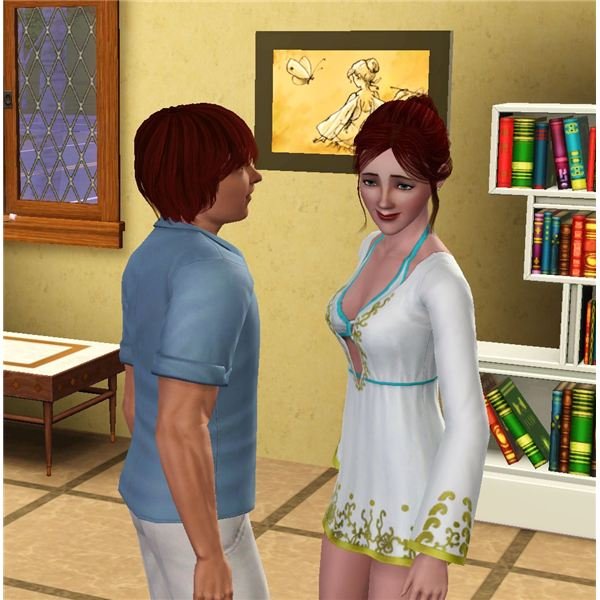 New Hairstyles
Female Sims (all age groups except children and toddlers) received one new hairstyle. This Sims 3 hairstyle is pulled back into a messy bun with long bangs in the front. Very cute for being outdoors!
Male Sims (all age groups except children and toddlers) received one new hairstyle. This hairstyle is a shaggy looking cut.
The Sims 3: Outdoor Living Stuff Pack – New Objects (5 out of 5)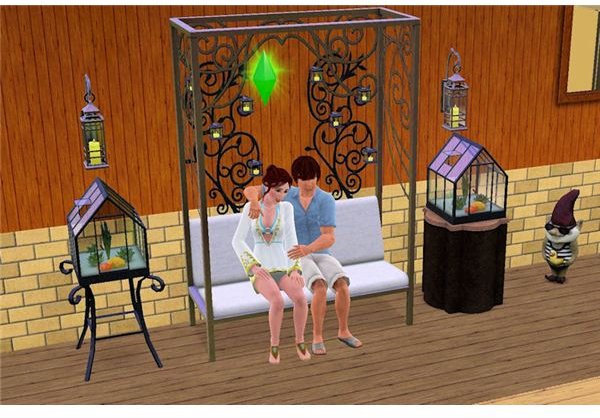 "The Sims 3 Outdoor Living Stuff Pack" includes a nice variety of outdoor themed items that you can decorate your backyard oasis with. Some of these items you could also use inside the home as well though.
The two basic style types of The Sims 3 objects included are: "Garden Terrace" which has the wrought iron look and "Sunset on the Veranda" which looks more rustic. Even though there are two styles, they could be used together, and actually works very nicely if you make the colors similar.
New hot tubs are the big draw for this expansion pack, which is understandable because what backyard oasis would be complete without one? There are five new Sims 3 hot tubs added with "The Sims 3 Outdoor Living Stuff Pack" ranging from $6,500 Simoleons to $12,000 Simoleons.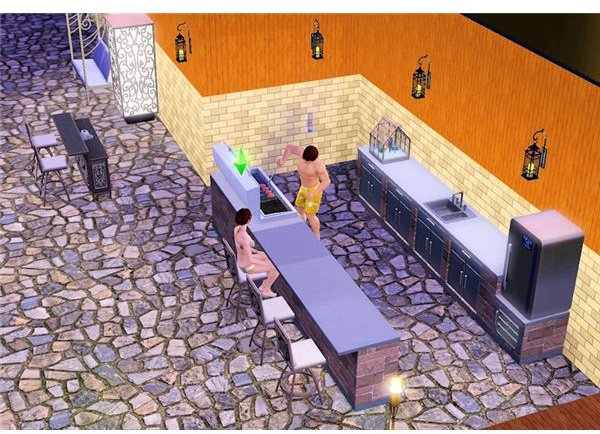 There are also quite a few other new items that were added ranging from new outdoor kitchen appliances, outdoor counters, BBQ accessories, outdoor lighting, outdoor seating, dining table and chairs, easel, telescope, garden gnome, and even a new Sims 3 object that is a stereo that looks like a rock!
Graphics (5 out of 5)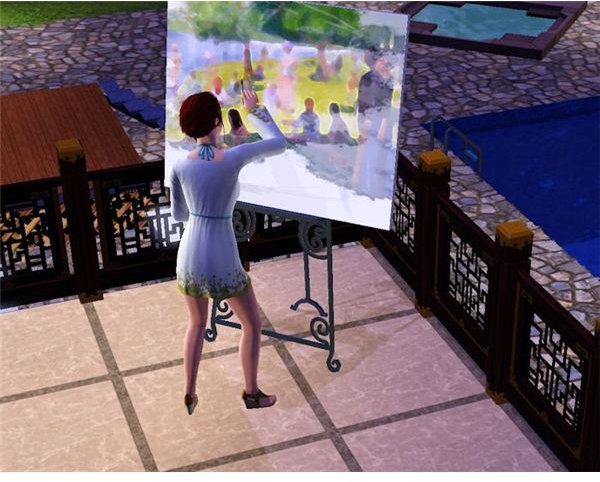 The graphics for "The Sims 3" are the same with this stuff pack. The new clothing, hairstyles, and items are all of equal quality as other official items offered through the other expansion packs, stuff packs, and official The Sims 3 Store items (some of which you can even download for free). Check their online store often to find free items (usually related to holidays or other big events) and check back daily for their "Daily Deal" which is usually about 50% off.
The graphics in "The Sims 3" are beautiful, and really don't require a hardcore gaming computer in order to play flawlessly. For more information on what is required, check out The Sims 3 system requirements before playing.
Gameplay (4 out of 5)
The actual gameplay of "The Sims 3" is enjoyable and highly addicting. The game offers an endless variety of things to do with your Sims, and there are always new items you can buy, download, or perhaps even make your own custom content to add into your game. The possibilities are really endless!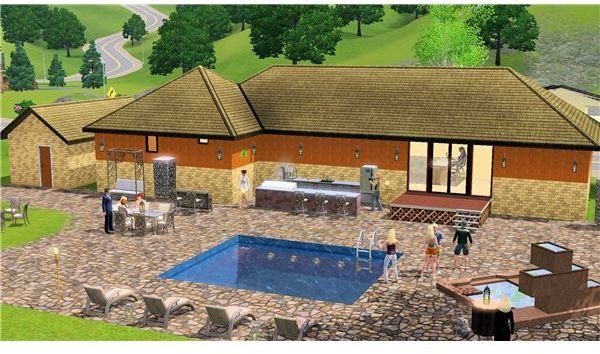 Stuff Packs, such as this don't offer any new Sims 3 life states, such as vampires or mummies. It also doesn't offer any new pre-made buildings, or a new neighborhood, such as The Sims 3 Bridgeport neighborhood that was added with the "Late Night" expansion pack. No new content besides new objects, clothes and hairstyles were added.
What was added to the game made it very enjoyable to play, and gave additional items for you to have fun backyard parties, which was lacking before the addition of this stuff pack.
Sound (4 out of 5)
The music in this stuff pack is the same quality and type that was in the other "The Sims 3" games. The new stereo that looks like a rock is a nice addition to stereo equipment though, and really adds to the vibe of the outdoor living spaces.
Overall… (5 out of 5)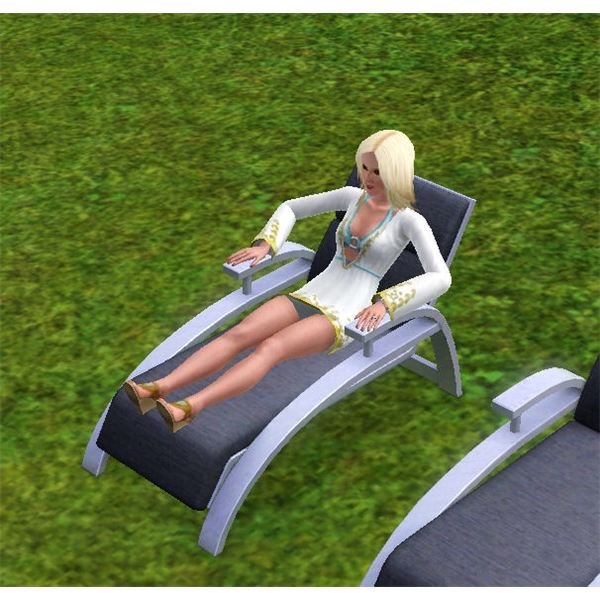 "The Sims 3 Outdoor Living Stuff Pack" is worth getting if you like the items and play the game often. If these items were offered as sets on their online store, you would be paying much more money, so it is good for the price too.
The items included are great, and the new sexy Sims 3 clothing options are beautiful and nicely detailed. So, if you were considering purchasing this stuff pack, go ahead and buy it and throw a pool party in game!
References
All screenshots and references from The Sims 3: Outdoor Living Stuff Pack.
Screenshots provided by Sheri Newton.