A Look At The Top Facebook Games - Play fun games on facebook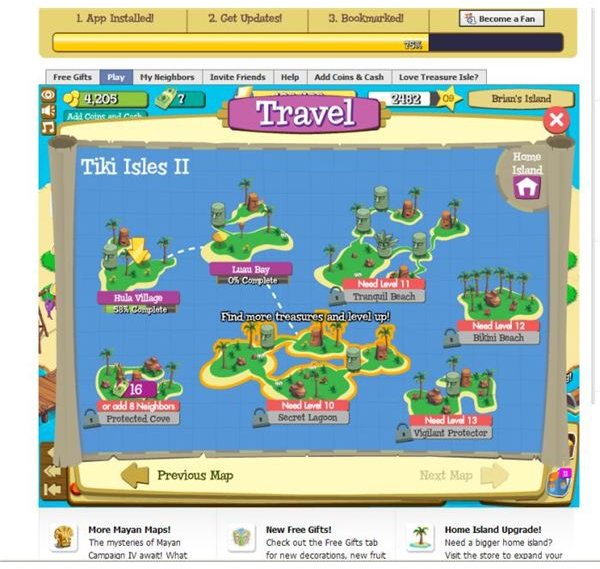 Farmville A Facebook Giant - Top Facebook Games
Who would have thought a game about farming could be so popular but Farmville released by Zynga has become one of the most popular Facebook games so as we look at the top Facebook games it is Farmville that takes the crown in terms of users and popularity on the site. The game is simple enough you grow crops, harvest, decorate your farm, and send gifts to your Facebook friends. The game features unique content on special days such as holidays and is always adding new things to keep this game popular. Recently they added pets to the game and who knows what will be next for this Facebook giant.
Related Links:
Cafe World A Restaurant At Your Fingertips
Another one of Zynga's flagship games is Café World. This game revolves around running your own restaurant and serving meals to your guests. The game features tons of decorative options for your restaurant and dishes to serve. Zynga continues to add fresh content to the game such as the new spice rack and super stove.
Related Links:
Facebook Mafia Wars - Top Facebook Games
Another popular game on Facebook is the RPG game Mafia Wars. In this game you play a street thug working his way up the crime ladder. Yu can take jobs and fight with other players as you work your way up to the top of the mafia. You will start with simple tasks such as mugging but eventually you will need equipment such as pistols to get the job done. As you do more jobs you will get more experience and become powerful.
Reated Links:
Treasure Isle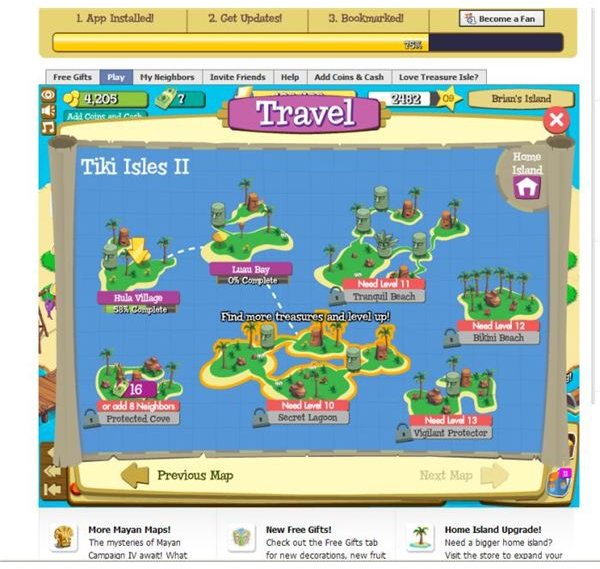 A newcomer on Facebook is the game Treasure Isle. This game takes you to various islands where you dig for buried treasure. You an earn coins, experience, and collect items for rewards. You can't treasure hunt forever though and as you character gets tired you will find fruit to replenish your energy. Take a breather while you regenerate and work on building your own island and complete it with tropical decorations.
Related Links:
Fishville Your Virtual Acquarium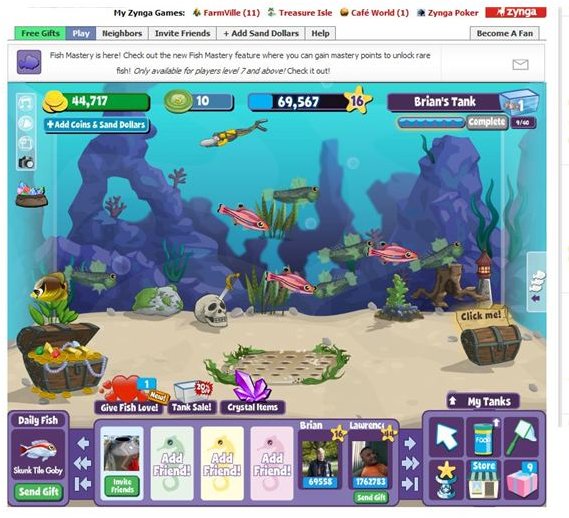 As we continue to look at the top Facebook games we can't forget Fishville the virtual aquarium game produced by our old friend Zynga. In Fishville you have your own fish tank which can be decorated with items such as castles, boats, underwater plants, and of course fish. You will find dozens of different fish for your tank and you can sell the adult fish for more game coins. Your fish require feeding and by cleaning your tank you can gain some experience points. As you level up new items for your tank will become available and more fish types too.
Related Links:
Social City The Facebook City Builder
New game genres are appearing on Facebook all the time and one of the newest genres in city building. Yu can think of this games as stripped down Sim City style games. Social City is one of the better city builders on Facebook. In this game you can build up your own city complete with housing, manufacturing and leisure buildings. By adding more houses your population will increase. In your factories contracts to produce goods are completed for game coins and leisure helps keep your citizens happy with sub shops, coffee houses, bowling alleys and so on.
Related Links:
Other City Builders
Petville Cute Facebook Pets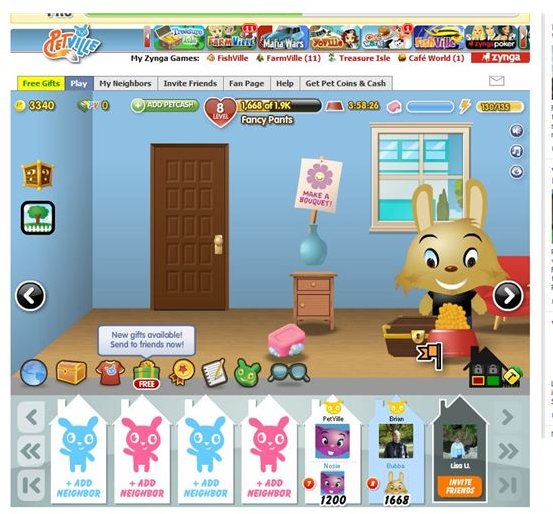 Another popular game on Facebook is Petville. This game takes the idea of pet management and makes it cute. You an own your own cute cartoon style pet, dress it up, and visit your friends pet's to play cute games. Players can decorate an apartment for their pet to call home. This game has the cute factor going on for sure.
Related Links:
Country Life and More Farming
Farming is the popular theme on Facebook and Country life is another game in this genre. This game changes things up a bit and allows you to not only harvest your crops but change tem into products such as milk, honey and other items to sell for addional cash. Other farming games include Farm Town and the fish harvesting game Fish Isle. Garden World allows players to work on their own garden and decorate it with colorful flowers.
Card Games and other Facebook Games
Card games are also poular on Facebook with Zynga Poker and Poker Blitz. A popular puzzle game to play with friends on Facebook is Bejeweled Blitz. Kingdoms of Camelot is an Evony style game where you build your own medieval kingdom and use your Facebook friends to help lead your armies while the RPG Band of Heroes puts you in the heart of WWII as you try to defeat germany. Yoville is a Facebook virtual world where you avatar can interact with others, play mini games, decorate an apartment and even do jobs.
Conclusion
Facebook is full of fun and interesting games. While these games don't match console or even full PC games they are gaining in popularity with the social media site and we are beginning to see more games with 3D elements coming to Facebook. Who knows what the future holds in the world of Facebook games.